ASEANEWS IN PHOTOS: HÀ NỘI – Meeting reviews preparations for WEF ASEAN
Deputy Prime Minister Phạm Bình Minh chaired a meeting in Hà Nội yesterday with representatives of ministries and agencies to review preparations for the World Economic Forum (WEF) on ASEAN slated for September 11-13 in the capital city.—  VNA/VNS Photo Lâm Khánh
<>
Bandar Seri Begawan:
Play key role in realising Vision 2035, youth told

Youth play an important role in implementing Wawasan 2035 and in 15 years from now, they would be the ones leading the country, said Minister of Culture, Youth and Sports Major General (Rtd) Dato Paduka Seri Awang Haji Aminuddin Ihsan bin Pehin Orang Kaya Saiful Mulok Dato Seri Paduka Haji Abidin. Delivering a speech during the closing ceremony of the first Brunei Youth Leader Convention (BYLC) 2018 at the Centrepoint Hotel in Gadong yesterday, he urged the nation's youth to ask themselves what they can do for this country and what roles they can play in help developing Brunei into a better country, in line with the MIB philosophy.
<>
PHNOM PENH:
Cambodia approves China investment in banana farm
A vendor shows locally-grown bananas in Cambodia. (Khmer Times photo)
<>
VIENTIANE:
Activists call on Laos dam operator to own up Apology, halt in dam building by Vientiane demanded
A man walks through his village in Attapeu province as floodwaters from the collapsed Xe-Pian Xe-Namnoy dam lowly recede. (Reuters ph
<>
JAKARTA:
Jokowi picks cleric as running mate in 2019
Indonesian President Joko 'Jokowi' Widodo, centre left, and his running mate Ma'ruf Amin, centre right, greet their supporters prior to formal registration as candidates for the 2019 presidential election in Jakarta on Friday. (AP photo)
<>
<>
YANGON:
Villagers up in arms against cement factory construction
<>
MANILA:
Monsoon rains prevail due to 'Karding'
<>
BANGKOK:
Foreign divers rescued after pickup swept into canal
The pickup truck carrying two foreign divers, one a Danish national involved in the dramatic rescue at Tham Luang cave last month, sits partially submerged in Sinpun canal, Nakhon Si Thammarat, late Thursday afternoon. (Photo by Nujaree Raekrun)
<>
HÀ NỘI:
Future Official Development Assistance (ODA) is still needed for Việt Nam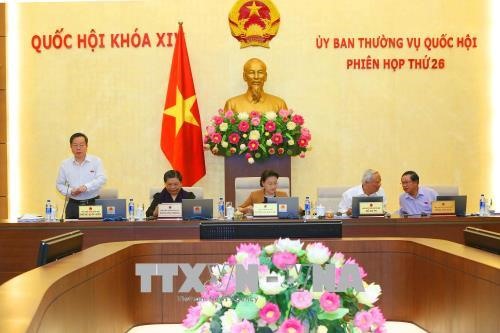 NA Standing Committee members said future Official Development Assistance loans are necessary for Việt Nam given its huge demand for investment in development.—VNA/VNS Photo Dương Giang
.
All photographs, news, editorials, opinions, information, data, others have been taken from the Internet..aseanews.net |
[email protected]
/ For comments, Email to : Aseanews.Net |