OP ED EDITORIAL & CARTOONS: OPINION – THE NEW CHIEF JUSTICE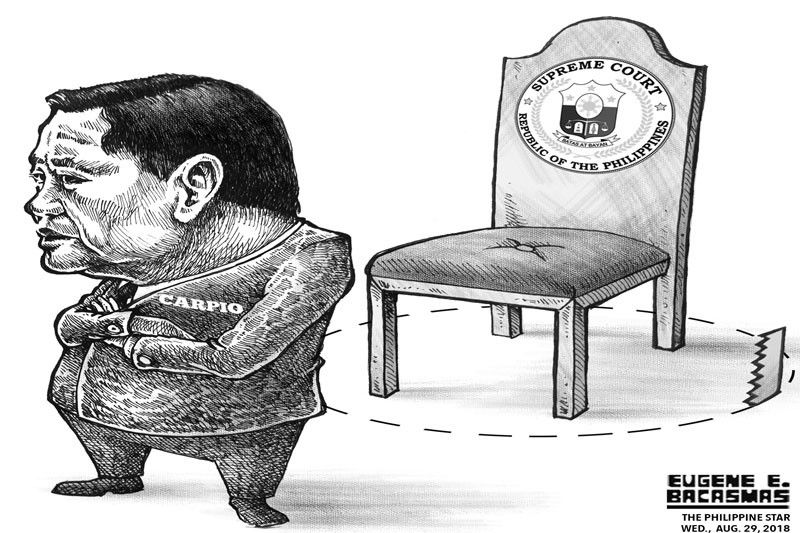 EDITORIAL – Seniority rule
Whether presidential appointees or career civil servants, many officials and employees in government are happy to hear President Duterte's declaration that seniority will be his primary basis for making promotions.
The President made the statement in explaining that seniority, not politics, was his main consideration in picking Teresita de Castro as the new chief justice, even if she has less than two months left before retirement from the judiciary. When justices with similar levels of competence are vying for the same promotion, the seniority rule will be followed, the President indicated.
Seniority, the President stressed, is being observed in promotions in the Armed Forces. This policy clearly was not yet in effect when the President picked Ronald dela Rosa over senior officials as Philippine National Police chief. But the President can still institutionalize the principle in the PNP's system of promotions and assignments.
.
De Castro, as many have pointed out, is not the most senior justice of the Supreme Court. But the most senior SC member, Associate Justice Antonio Carpio, declined his automatic nomination as top magistrate because he did not want to benefit from the ouster of Maria Lourdes Sereno.
Carpio had opposed Sereno's removal through a mere quo warranto petition filed by the government's chief lawyer, arguing that this is unconstitutional and that a chief justice may be removed only by impeachment.
When their peers including De Castro voted for the quo warranto route anyway and ousted Sereno, Carpio said he had to be consistent and rejected his nomination as chief justice. But being the most senior associate justice, he acted as chief magistrate while the position was vacant, serving longer than the 41 days allotted to De Castro.
When De Castro retires under normal circumstances, Carpio becomes eligible again. This time, with no issues preventing Carpio from accepting another automatic nomination, the most senior member of the Supreme Court can finally get his long overdue promotion to the highest post in the judiciary, with one year to serve before his retirement. That is, if President Duterte meant what he said about seniority. The country will hold him to his word. The Philippine Star – August 29, 2018 – 12:00am
..
7.1 Rights, lives and lies – D. Tribune – Hungry and angry