EDITORIALS-CARTOONS: Editor's Choice – Waiting for testing kits

Leadership in a crisis
If the ongoing COVID-19 crisis has taught us anything, it is the critical importance of choosing the right leaders.In the United States, US President Donald Trump wasted precious weeks during the early days of the outbreak by lulling Americans with baseless assurances. Fear of the spread of the novel coronavirus, he said, was "a hoax" perpetuated by the political opposition and its allies, "the fake news media." He also tried to blame the preceding Obama administration for the lack of preparedness to deal with the outbreak—when it was his own chief of staff that disbanded the White House pandemic response team two years ago.READ MORE: https://manilastandard.net/opinion/editorial/319959/leadership-in-a-crisis.html.
Dereliction of duty
Is the Solicitor General going for some sort of dubious record?
In August, September, and October last year, the government's lawyer lost three consecutive Marcos ill-gotten wealth cases for the same reason: violating the "best evidence rule" of court by presenting only photocopies and not the original documents in the court inquiry.
READ MORE: https://opinion.inquirer.net/128160/dereliction-of-duty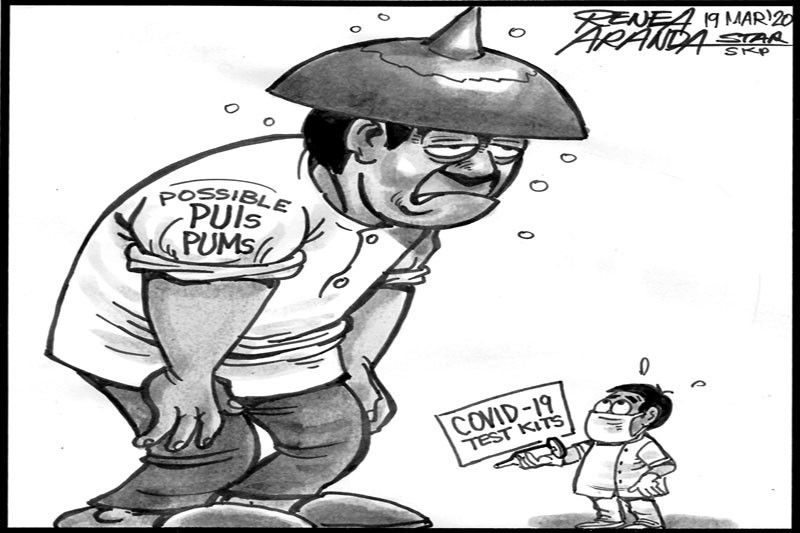 EDITORIAL – Waiting for testing kits
.
In containing the spread of pathogens, health professionals have always stressed the importance of timely diagnosis and sufficient resources to conduct the tests. The same is true for the coronavirus disease 2019 pandemic. With COVID-19 community transmission now declared in the Philippines, concerns have been raised on whether the country has enough testing kits.
READ MORE: https://www.philstar.com/opinion/2020/03/19/2001958/editorial-waiting-testing-kits
Ads by: Memento Maxima Digital Marketing
@ [email protected]
– SPACE RESERVE FOR YOUR ADVERTISEMENT
.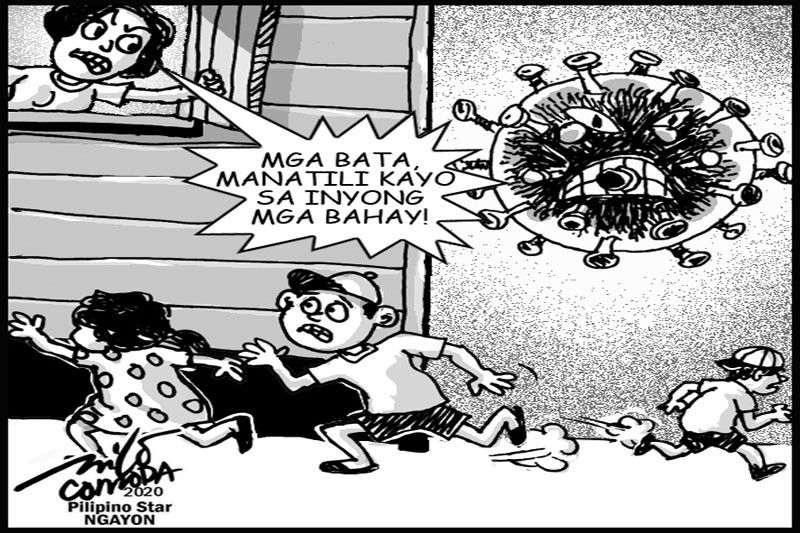 EDITORYAL – Huwag matigas ang ulo
.
Seryoso si President Duterte nang ihayag ang enhanced community quarantine noong Lunes ng gabi sa buong Luzon. Bagama't hindi ginamit ang salitang lockdown, halos nagkakapareho na rin ang kahulugan sapagkat pinagbawalan na ang lahat ng tao na makapagbiyahe o makapunta sa kung saan-saan. Lahat nang transportasyon – pang­lupa, pandagat at panghimpapawid (maliban sa inter­national flight) ay pinagbawal.
BASAHIN PA MORE: https://www.philstar.com/pilipino-star-ngayon/opinyon/2020/03/19/2001942/editoryal-huwag-matigas-ang-ulo
.
SG EDITORIAL:
The Straits Times says

Reacting calmly to Malaysia's move
Malaysia's decision this week to impose a lockdown of its borders attested to the seriousness with which it was treating the spread of the coronavirus. Although fatalities are low, more than half of the cases in Malaysia stem from a religious event which was attended by about 16,000 people, including Singapore and Brunei nationals. Malaysia now has the highest tally of infections in South-east Asia, putting it in the unenviable position of having to take drastic steps immediately. Consequently, for two weeks, its citizens will not be allowed to travel overseas, and those returning from abroad will have to undergo a health examination and quarantine themselves for 14 days. Tourists will not be allowed to enter the country during the period. Also, all schools, universities and businesses nationwide will be shut, and all public gatherings banned. Clearly, these moves will disrupt the economy and society, but they are necessary to protect lives.
Singaporeans would empathise with the travails of their northern neighbours. Within the Republic, thoughts have turned to how Singaporeans themselves would be affected by the Malaysian move. Concerns centre principally on the security of Singapore's food supply, which is linked to regular access to Malaysian produce, and the prospects of Singapore companies which employ many Malaysian workers who commute daily. These movements of food and people are such a staple of everyday bilateral relations that any disruption cannot but be troubling.
 READ MORE: https://www.straitstimes.com/opinion/st-editorial/reacting-calmly-to-malaysias-move
A mother beams as her five children play at an outdoor carnival, trying out bumper cars, going on a mini-roller coaster and whirling on a colourful swing ride. Pausing, the giggling riders take selfies with friends from their neighbourhood who are also visiting the fair.
For Ms Siti Nurhafizah, the outing was a rare treat, and also a chance for her family to mingle at leisure with their neighbours.
READ MORE: https://www.straitstimes.com/opinion/it-takes-a-kampung
<>
Paying price for slackness
Two explosions right in front of the Southern Border Provinces Administrative Centre (SBPAC) in Yala's Muang district that injured many on Tuesday came as a shock, not only because the bombers carried them out in broad daylight, but also because the SBPAC is a highly strategic place that is supposed to be well guarded. Such successful attacks speak volumes about the lax security measures that have justifiably triggered public alarm.
The blasts took place at 10.30am while a meeting on the coronavirus situation in five southern provinces, attended by senior SBPAC officers and provincial authorities, was being held.
READ MORE: https://www.bangkokpost.com/opinion/opinion/1881860/paying-price-for-slackness
.
.
All photographs, news, editorials, opinions, information, data, others have been taken from the Internet ..aseanews.net | [email protected] For comments, Email to :D'Equalizer | [email protected]