ASEANEWS FRONT PAGES: Gym owner in the soup for breaking MoH rules
.
.
.
ASEANEWS
TEDDY "BEAR" LOOK SiN
Gym owner in the soup for breaking MoH rules
A 55-year-old local man was ordered to settle a BND5,500 fine by the Magistrate's Court yesterday, after he pleaded guilty to a charge under Section 62A(2) of the Infectious Diseases Act, Chapter 204.
PHNOM PENH, Cambodia- Kingdom's growth 'to drop to 2.5 percent'
The World Bank has predicted the Kingdom's real economic growth will slow to around 2.5 percent this year mainly because of the COVID-19 pandemic.
The country consistently achieved economic growth of around 7 percent for several years.
In its just-released publication titled April 2020 Economic Update for East Asia and the Pacific in the time of COVID-19, the World Bank said the coronavirus outbreak caused sharp decelerations in most of Cambodia's main growth drivers in the first quarter of 2020.
"Real growth is projected to slow sharply to 2.5 percent in 2020, but the growth rate will recover to 5.9 percent in 2021 under the baseline scenario," the bank's report stated. It added that the unprecedented global shock triggered by the pandemic has significantly affected the country's economy in all its major sectors: agriculture, tourism, garments, textiles and construction.
The situation was not helped when the European Union said it will withdraw 20 percent of its free trade status with the country, hitting the country's coffers by about $1.1 billion from Aug 12.
The free tariff scheme is known as the Everything but Arms (EBA) deal and was cut because the EU decided Cambodia had not done enough work to rectify human rights abuses.
"In the worst case scenario, real growth is projected to diminish to 1 percent in 2020 and 3.9 percent in 2021," according to the report.
"Spillovers to the construction and real estate sector – one of Cambodia's growth drivers and heavily invested in by Chinese investors – amid financial market turmoil could potentially be detrimental to growth," it said.
The report said rebounds in economic activity in China and major markets in 2021 will improve Cambodia's growth outlook next year.
READ MORE:
Chan Sophal, director of the Centre for Policy Studies (CPS), says both the EBA effect and the epidemic and other risks are threatening Cambodia's financial well-being. He forecast the country's economic growth will be below 6 percent this year.
"Unlike EBA, the virus could have a serious impact on the economy. It disrupts the supply chain of raw materials for factories in Cambodia, which could lead to the suspension of production and workers," he said, adding that tourism is also suffering. The number of Chinese tourists, who make up a majority of those who visit Cambodia, has seriously declined. Consequently, hotels and guesthouses, restaurants and transportation service providers are losing money./   Chhut Bunthoeun / Khmer Times  Share:    
.
Ads by: Memento Maxima Digital Marketing
@ [email protected]
– SPACE RESERVE FOR YOUR ADVERTISEMENT
– SPACE RESERVE FOR YOUR ADVERTISEMENT
..
.
<aseanews>
.
YANGON, Myanmar-  State Counsellor says lockdown will be used only if needed
"For the benefit of the country, a community quarantine will be imposed only where it is necessary," she said in a televised address to the nation.
She added that once a community is locked down, the new committee headed by Vice President U Myint Swe would ensure there are no shortages of food, medicine or other essentials.
READ MORE: https://www.mmtimes.com/news/state-counsellor-says-lockdown-will-be-used-only-if-needed.html
Myanmar's de facto leader also urged people to avoid social gatherings, even small family gatherings, to prevent and control the spread of the disease.
"Having your relatives and friends gather at home is as dangerous as going into a crowd outdoors," she said. "Please stay at home as much as you can." / EI EI TOE LWIN
Ads by: Memento Maxima Digital Marketing
@ [email protected]
– SPACE RESERVE FOR YOUR ADVERTISEMENT
– SPACE RESERVE FOR YOUR ADVERTISEMENT
.
..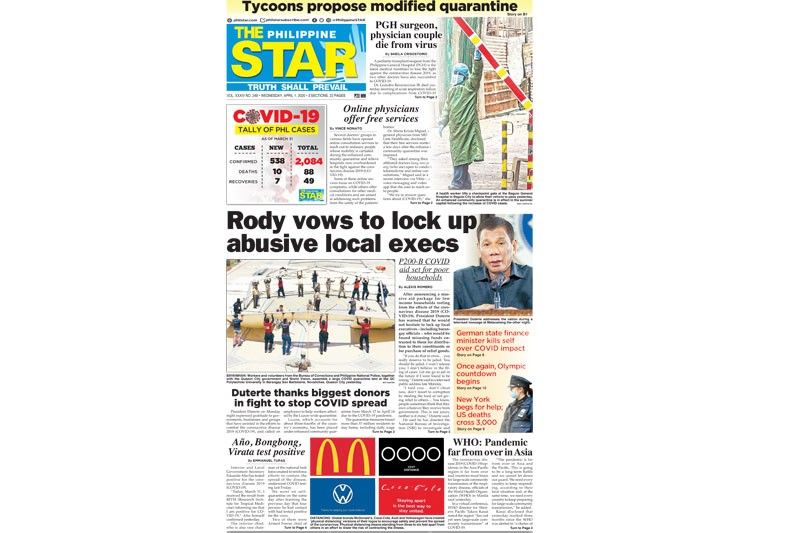 MANILA, Philippine- Duterte vows to lock up abusive local execs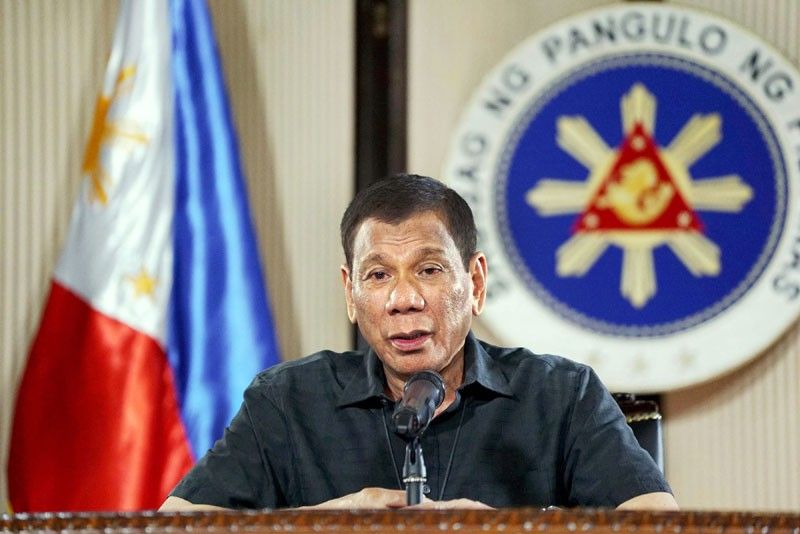 President Duterte addresses the nation during a televised message at Malacañang the other night.
STAR/File
 P200-B COVID aid set for poor households
MANILA, Philippines — After announcing a massive aid package for low income households reeling from the effects of the coronavirus disease 2019 (COVID-19), President Duterte has warned that he would not hesitate to lock up local executives – including barangay officials – who would be found misusing funds entrusted to them for distribution to their constituents or for purchase of relief goods.
"If you do that in crisis… you really deserve to be jailed. You should be jailed. I won't release you; I don't believe in the filing of cases. Let me go to jail in the future if I were found to be wrong," Duterte said in a televised public address late Monday.
"I told you… don't cheat now, don't resort to corruption by stealing the food or not giving relief to others… You know, people sometimes think that they own whatever they receive from government. This is not yours, neither is it mine," Duterte said.
Aid for small business
The President also vowed to help small businesses and the agriculture sector cope with the impact of the pandemic.
'No one goes hungry'
While the government is rolling out a multibillion-peso aid package, Duterte appealed to private institutions and individuals to help in uplifting the condition of those severely affected by the health crisis.
READ MORE: https://www.philstar.com/headlines/2020/04/01/2004779/duterte-vows-lock-abusive-local-execs
Speaker Alan Peter Cayetano has proposed a house-to-house distribution of the cash assistance.
"Let's do it house-to-house to minimize the crowd, there should be little to no contact between the beneficiaries and relief workers, maximize the use of technology for documentation and record-keeping."  – Edu Punay, Delon Porcalla, Mayen Jaymalin / Alexis Romero The Philippine Star
.
Ads by: Memento Maxima Digital Marketing
@ [email protected]
– SPACE RESERVE FOR YOUR ADVERTISEMENT
– SPACE RESERVE FOR YOUR ADVERTISEMENT
.
<aseanews>
.
BANGKOK, Thailand-  9 million fit for B5,000 relief
People queue up at a Krungthaibank branch in Chai Nat province on Monday to open bank accounts to receive Covid-related aid from the government. (Photo: Chudet Seehawong)
Nine million people out of 21.7 million who registered will be eligible for the 5,000-baht financial aid granted by the government to ease the impact of Covid-19, says government spokeswoman Narumon Pinyosinwat.
She said the cabinet on Tuesday approved access to the aid for an additional six million people after three million were earlier provided with the cash giveaway. The total cost to the government of the coverage will now be 135 billion baht.
READ MORE: https://www.bangkokpost.com/thailand/general/1890340/9-million-fit-for-b5-000-relief
The waiver will be applied to imports and donations made from March 1 until the end of February next year. A similar waiver has also been approved on income tax and VAT for companies or juristic persons who make donations to help fight the outbreak.
Ms Rachada said the waivers will cost the state about 500 million baht./ WRITER: CHATRUDEE THEPARAT
.
<op-ed>
.
HA NOI, Viet Nam-  Viet Nam News suspends print edition after staff tested positive for COVID-19
Dear readers,
It is with great regret that we announce a temporary suspension to the print edition of our newspaper from Tuesday, March 31 until April 15.
The decision became imperative once one of our staff tested positive for the SARS-Cov-2 virus yesterday. Many of those who have come into contact with her at our office will now have to stay isolated either at health centres or their homes.
It has thus become impossible for us to bring to you the print, hardcopy version of the nation's premier English news daily.
We sincerely apologize for the inconvenience and request your understanding in these challenging times.
Even at this juncture, we are committed to bringing you the latest developments in the country and beyond. To this end, we will ensure that our website is frequently updated with articles, analysis and commentary. So please continue your valued patronage by clicking on vietnamnews.vn and following us online.
Your print subscription will be automatically transferred to the next 16 days.
We wish you, your colleagues and loved ones good health in the days to come.
We also pledge that this experience only strengthens our resolve to come back stronger and continue to bring you news that matters about Viet Nam and the world.
Viet Nam News team
<asenews>
.
All photographs, news, editorials, opinions, information, data, others have been taken from the Internet.. Teddy 'Bear' Look-SiN