COVID-19 THE "PLAGUE": Day 137: ASIA UPDATES- YANGON- Myanmar COVID-19 cases surge to 38
Quarantine period increased to 21, commercial flight arrivals suspended until April 30: DASSK
.
.

BRUNEI-No new cases, five more recover from COVID-19
.
Brunei Darussalam recorded no new COVID-19 cases yesterday with the total number in the country standing at 136. Five more cases treated at the National Isolation Centre have recovered and were allowed to go home. This brings the…… James Kon. READ MORE:  https://borneobulletin.com.bn/no-new-cases-five-recover-covid-19-2/
.
<covid-19>
.
PHNOM PENH, Cambodia- Two new COVID-19 positive cases bring total to 122.
Doctors with health records of people who have been tested for COVID-19. Photo suppled
Two new COVID-19 positive cases were reported by the Ministry of Health this morning.
They are a 24 year old female Vietnamese national and her 50 year old Canadian husband.
They are a 24 year old female Vietnamese national and her 50 year old Canadian husband.
Both are currently admitted to the Chak Angre Krom commune. They were tested positive on Friday.
The two new positive cases brings the total number of foreigners infected by COVID-19 to 71, comprising 40 French nationals, 13 Malaysians, five British, three Chinese, three Vietnamese, two Americans, two Indonesians, two Canadians, and a Belgian.
Of them, 77 have been successfully cured with one case of relapse involving a Cambodian male.
.
 .
Ads by: Memento Maxima Digital Marketing
@ [email protected]
– SPACE RESERVE FOR YOUR ADVERTISEMENT
– SPACE RESERVE FOR YOUR ADVERTISEMENT
JAKARTA- Indonesia Reports 330 New Cases as Covid-19 Outbreak Yet to Slow
Jakarta. Indonesia reported 330 new confirmed cases of coronavirus infection in the last 24 hours on Saturday, the second highest rise in a day, to bring the total cases to 3,842.
The alarming pace is exacerbated by the fact that fatalities continue to beat the number of patients recovering from the infectious illness, as 21 patients died to the total death toll of 327.
On the other hand, only four patients recovered on Saturday and accumulatively only 286 patients across the country have been discharged from hospitals.
"The disease continues to spread due to a lack of discipline among the people to observe physical distancing, to wear face masks and to wash their hands more often," the government's Covid-19 Task Force spokesman Achmad Yurianto said in a video conference in Jakarta.
The country of more than 272 million people is also lacking of extensive tests, with Achmad saying only close to 20,000 tests have been conducted so far.
Achmad also warned of another imminent threat to public health namely the seasonal dengue fever outbreak as summer is arriving.
The outbreak has now affected all 34 provinces across the archipelago, after Gorontalo in the northern part of Sulawesi island reported its first confirmed case on Thursday.
Jakarta, the epicenter of the Indonesian outbreak, has 1,984 confirmed cases as of Saturday, more that 50 percent of the national tally.
South Sulawesi has 178 cases, the highest outside provinces on most-densely-populated Java island. It even has more cases than Central Java, which reported 144 confirmed cases.
A Muslim pilgrimage involving hundreds of people including foreigners in Gowa several weeks ago is believed to be the source of local transmission in South Sulawesi, where most patients were linked to the gathering.
Youngest Patient
Meanwhile, a 1-week-old baby in Cianjur, West Java, was treated as a Covid-19 patient and placed under isolation for developing related symptoms. She may become the country's youngest Covid-19 patient if a subsequent test comes back positive. The baby allegedly caught the disease from her mother, who died shortly after giving birth to twins.
"The baby girl developed the symptoms and she allegedly contracted the disease from her mother, a resident in Cijati sub-district who died after a rapid test indicated that she was positive of Covid-19," local health official Yusman Faisal told Antara news agency.
The baby's twin died during the delivery, Yusman said. The baby is being treated at a hospital in the provincial capital, Bandung. BY :HERU ANDRIYANTO
.
<covid-19>
.
VIENTIANE, Laos- Taskforce urges public to avoid parties as COVID-19 cases hit 18.
The National Taskforce Committee for COVID-19 Prevention and Control on Saturday urged members of the public to avoid parties during the Lao New Year break as this could lead to a rapid increase in virus cases.
.Associate Prof. Dr Phouthone announces two more COVID-19 cases on Saturday, bringing the total to 18.
.
Next week will be the Lao New Year festival, and we [the committee] would like to call on everyone to pay great attention to the implementation of the PM's order No. 6," the committee Deputy Head, Associate Prof. Dr Phouthone Muongpak said at a COVID-19 update press conference on Saturday.
"The order emphasises the need for people not to travel, stay at their residences as much as possible, practise social distancing, avoid large parties as well as stay away from religious ceremonies, which many people attend," he said.
Associate Prof. Dr Phouthone, who is also Deputy Minister of Health, made the public appeal after announcing two more confirmed COVID-19 cases in Laos at a media conference in Vientiane on April 11 bringing the total verified infections to 18.
One of the two latest cases involves a 32-year-old woman who shares the same accommodation building with the 16th case in Nongduangthong village. On April 4, she also dined with the 16th case along with two other friends.
The 17th case began to develop flu-like symptoms on April 7, including fever, cough and body aches. She did not seek medical treatment but self-medicated to relieve her symptoms. On top of that, she also dined with four other friends.
On April 8 and 9, she continued to suffer the symptoms and rested at home.
On April 10, Lao authorities took her to hospital for testing after the 16th case revealed the names of those she had been in close contact with. The test result was positive, and she was put in hospital isolation for further treatment.
The 18th case is a 32-year-old woman who was in close contact with the 17th case and authorities took both to hospital at the same time.
Associate Prof. Dr Phouthone said the latest two COVID-19 infections indicated that some people were oblivious to the dangers of the deadly virus and the committee's rules.
He also said some individuals suspected of being infected with the virus did not self-isolate while many people went out and dined with friends. He said such behaviour could lead to an expansion of coronavirus cases.
According to Associate Prof. Dr Phouthone, the government was aware of the situation and is expected to introduce tougher measures to control the spread of the virus in the coming days. By Ekaphone Phouthonesy
(Latest Update April 11, 2020) [07:31 PM]
.
Ads by: Memento Maxima Digital Marketing
@ [email protected]
– SPACE RESERVE FOR YOUR ADVERTISEMENT
– SPACE RESERVE FOR YOUR ADVERTISEMENT
.
.
<covid-19>
.
YANGON- Myanmar COVID-19 cases surge to 38
Myanmar health authorities reported seven new COVID-19 patients on April12, bringing to 38 the total number of people infected with the deadly disease in the country.
The new patients are from Yangon Region, one from Hllegu township and six from Insein township, records from the Health Ministry showed.
The infected persons have no travel histories abroad during the past 14 days. They also did not have contact with people who recently traveled abroad.
One of the confirmed new COVID-19 patients (Case 32) is a 38-year-old man who lives in Hlegu township. He worked in China and returned to the country three months ago.
He developed symptoms of the disease, including fever, and coughing on March 23 and admitted at Hlegu General Hospital on March 28.
Another patient (Cased 33) is a 29-year-old woman from Shwe Pyi Thar township in Yangon who developed COVID-19 symptoms on April 7 and sought treatment at Insein General Hospital on April 10.
A 20-year-old man (Case 34), who lives in Insein township was also among those diagnosed with the disease. He suffered from fever and throat pain on April 8 and admitted in Insein General Hospital two days later.
Another victim (Case 35), a 24-year-old man from Insein, was admitted at Insein General Hospital on April 10 after experiencing throat pain and difficulty in breathing two days earlier.
The 5th new case (Case 36) is a 33-year-old man, also a resident of Insein, who suffered fever, running nose, and throat pain on April 8 and also admitted at Insein General Hospital two days later.
The 6th new case (Case 37) is that of a 44-year-old man, also an Insein resident, who was admitted at the Insein General Hospital on April 10 after two days of fever, runny nose, and throat pain.
The 7th new COVID-19 patient (Cased 38) is a 78-year-old woman, also from Insein, who developed fever, cough, and diarrhoea on March 26 and admitted at the Insein General Hospital as a person under investigation on April 10.
The ministry said three of the victims, cases 34, 35, and 37, recently attended a religious ceremony, together with some foreigners who have no recent travel abroad.
All the seven patients will be transferred to Wai Bar Gi Hospital in Yangon for treatment. So far, they are in good health.
The Health Ministry tested 220 other persons suspected to be infected with the deadly virus, but all the results were negative, according to the National Health Laboratory.
Out of the 38 confirmed COVID-19 cases in the country, three died, and two made full recoveries./ AUNG PHAY KYI SOE
RELATED STORY:
Frontline doctor among three new COVID-19 cases in Myanmar
READ MORE: https://aseanews.net/2020/04/12/covid-19-the-plague-day-137-frontline-doctor-among-three-new-covid-19-cases-in-myanmar/
.
Ads by: Memento Maxima Digital Marketing
@ [email protected]
– SPACE RESERVE FOR YOUR ADVERTISEMENT
– SPACE RESERVE FOR YOUR ADVERTISEMENT
.
MANILA- PH records 247 more COVID-19 cases; total now at 4,428.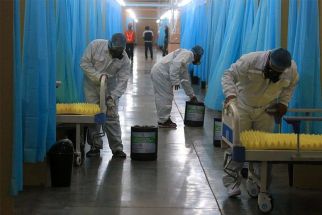 Asymptomatic cases excluded in DOH's new COVID-19 classifications
MANILA, Philippines — The Philippines now has 4,428 total cases of coronavirus disease after recording 233 new cases, the Department of Health (DOH) said Saturday.
Data from DOH released at 4 p.m. also showed that 26 more patients have died from the disease, bringing the COVID-19 death toll in the country to 247.
COVID-19 CASES BREAKDOWN (PH)
(as of April 11, 2020 – 4:00 PM)
CONFIRMED CASES: 4,428
RECOVERED: 157
DEATHS: 247
All photographs, news, editorials, opinions, information, data, others have been taken from the Internet ..aseanews.net | [email protected] | Fo r comments, Email to :  Al Bulario
.
TRIVIA:
10 States ― Brunei Darussalam, Cambodia, Indonesia, Laos, Malaysia, Myanmar, Philippines, Singapore, Thailand, and Vietnam
.