36th Asean Summit: Indonesia Encourages Asean, China to Resume South China Sea CoC Negotiation
.
Foreign Minister Retno Marsudi attending the virtual Asean Informal Action Ministerial Meeting in Jakarta, on Wednesday. (Photo courtesy of the Foreign Affairs Ministry)
.
.
.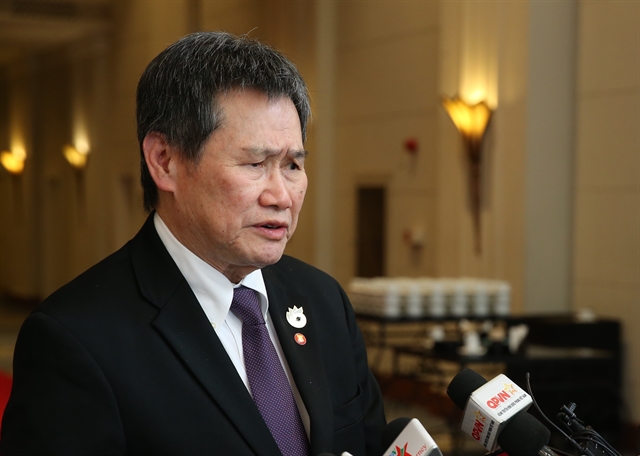 .
HÀ NỘI — ASEAN Secretary-General Dato Lim Jock Hoi lauded Việt Nam's leadership of ASEAN during its chairmanship year as the regional bloc grapples with the COVID-19 pandemic.
Speaking to a Vietnam News Agency correspondent in Jakarta, Indonesia, ahead of the 36th summit of the Southeast Asia regional bloc, Lim Jock Hoi said that: "Hà Nội has demonstrated strong leadership in spearheading a collective regional response to the pandemic."
"On the whole, ASEAN has come together and responded quickly to the pandemic, through the two special summits as well as the various measures undertaken collectively and specifically by the sectoral bodies," the ASEAN Secretary-General said.
.
 .
Ads by: Memento Maxima Digital
 SPACE RESERVE FOR  ADVERTISEMENT
The theme of 'Cohesive and Responsive' that Việt Nam selected for this year fits the requirements in terms of regional co-operation and solidarity in the fight against COVID-19.
"Since the start of the pandemic, the leaders have openly declared their shared commitment to strengthen regional cooperation in addressing public health emergencies, enhancing social safety nets, and preserving the regional supply chain.
"It is incumbent upon us to continue working together to articulate a collective response to COVID-19 to complement and amplify national and local responses," the ASEAN official said.
 .
Ads by: Memento Maxima Digital
 SPACE RESERVE FOR  ADVERTISEMENT
The summit "reaffirms the need for a regional recovery plan, which ASEAN continues to focus on following the ASEAN Special Summits on COVID-19 in April 2020," he said.
Thie recovery plan will involve collaboration among ASEAN member states' government agencies, industries, private sector and other relevant stakeholders, he said, adding that a greater collaborative effort is expected in "information and knowledge-sharing, in medical development, and in domestic policies concerning social and health security."
Another noteworthy part of the agenda of the 36th summit will be the regional leaders' dialogues with core stakeholders of the ASEAN Community, including youths, the business community, and parliamentarians.
Responding to questions over the impacts of COVID-19 on ASEAN's attempts to strengthen unity and co-operation, the official said that in addition to robust efforts against COVID-19 from individual member states, "the quick response and information sharing among ASEAN health officials, robust collaboration between ASEAN and external partners, e.g. with Plus Three, EU, and the USA, have also proven critical during the outbreak."
 .
Ads by: Memento Maxima Digital
 SPACE RESERVE FOR  ADVERTISEMENT
Led by Việt Nam, work is also underway to finalise the establishment of a 'COVID-19 ASEAN Response Fund', a regional reserve for medical supplies, and a standard operating procedure on public health emergencies, he said.
"Việt Nam has also kickstarted discussions on ASEAN's post-2025 vision," he added, saying that it is essential for ASEAN to achieve higher degrees of "cohesiveness and responsiveness" in its regional integration journey while adapting to the new normal and factoring in key lessons.
The ASEAN official also expressed appreciation for Việt Nam's donations of medical supplies and test kits to some ASEAN member states and other countries to aid their fight against COVID-19.
"So we salute Việt Nam for its leadership in the way they conduct and continue the COVID-19 fight," he said. — VNS
.
RELATED STORY:
MANILA, Philippines — President Rodrigo Duterte joined fellow heads of state as the 36th Association of Southeast Asian Nations (Asean) Summit formally opened Friday morning.
 .
Ads by: Memento Maxima Digital
 SPACE RESERVE FOR  ADVERTISEMENT
 .
Duterte, alongside other  leaders attended the Asean opening ceremony via teleconferencing as Vietnam Prime Minister Nguyen Xuan Phuc delivered his speech.
Vietnam is hosting the meeting as it assumed Asean's chairmanship this year
With the theme "Cohesive and Responsive Asean," Duterte and his counterparts in the region are expected to discuss initiatives and cooperation in addressing the COVID-19 pandemic.  
.
The leaders are likewise expected to tackle Asean's transition to the "new normal" and its post-pandemic recovery measures.
In mid-April, the regional bloc already convened a series of online meetings on how to deal with the health crisis.
There are at least 136,000 confirmed COVID-19 cases in Southeast Asia with Indonesia reportedly having the most cases at over 50,000.
gsg
---
SIGN UP TO RECEIVE OUR EMAIL
.
The most important news of the day about the ASEAN Countries and the world in one email:  [email protected]
6.26.2020