COVID-19 PANDEMIC: ASEAN CORONAVIRUS CASES UPDATES
.
"The 2019 Plague" Day 273
.
.
[aseanews]
.
Australia pledges AUD80m for regional Covid-19 vaccine access
Australia has pledged 80 million Australian dollars (more than 529 billion kip) to help developing countries in the region, including Laos, to access safe, effective and affordable coronavirus vaccines, according to the Australian embassy to Laos.
"Australia is proud to support fair access to Covid-19 vaccines for our neighbours in Southeast Asia, including Laos, by supporting a crucial new COVAX initiative by Gavi, the Vaccine Alliance," the embassy said on its official Facebook site.
"We believe Covid-19 vaccines should be safe, effective and available to all, not just those that can afford to purchase or manufacture it themselves."
Australia's financial support for Gavi COVAX Facility Advance Market Commitment (COVAX AMC) will help secure Covid-19 vaccines for Pacific Island and Southeast Asian countries.
Pacific countries eligible for COVAX AMC support include Papua New Guinea, Solomon Islands, Vanuatu, Fiji, Samoa, Tonga, Tuvalu and Kiribati. Eligible countries from Southeast Asia are Indonesia, Timor-Leste, Cambodia, Laos, Myanmar, the Philippines and Vietnam, according to a joint media release.
The media release was jointly issued by Australian Minister for Foreign Affairs Marise Payne, Minister for Health Greg Hunt, and Minister for International Development and the Pacific Alex Hawke.
"Access to vaccines will play a critical role in the economic recovery of our region from this pandemic," the joint press release said.
COVAX AMC forms part of the wider COVAX Facility, a global mechanism designed to enable rapid, fair and equitable access to Covid-19 vaccines to end the acute phase of the pandemic by 2021.
Many major countries including Russia and the United States have spent billions of dollars to develop a Covid-19 vaccine.
China has been administering a coronavirus vaccine candidate to selected groups of workers since July, according to the Brisbane Times.
Chinese Premier Li Keqiang told his counterparts in the Mekong countries – Myanmar, Laos, Thailand, Cambodia, and Vietnam – during a video conference this week that China will give priority to providing Covid-19 vaccines to these countries once a vaccine is successfully developed and put into use.
Meanwhile, Russia presented its Covid-19 vaccine called 'Sputnik V' earlier this month and officially registered the vaccine on August 11, making it the first country to do so, the Sputnik News Agency reported.
Russia's Gamaleya research centre has received permission to conduct post-registration clinical trials of the vaccine, in which 40,000 volunteers will take part.
Russian Ambassador to Laos Vladimir A. Kalinin and Lao Health Minister Dr Bounkong Syhavong last week discussed the possibility of providing Laos with the Sputnik V vaccine when the third stage of the certification procedure in Russia is complete.
By Souksakhone Vaenkeo 
(Latest Update August 28, 2020)
.
[aseanews]
.
.
Ads by: Memento Maxima Digital
SPACE RESERVE FOR  ADVERTISEMENT
PETALING JAYA, Malaysia:  6 new Covid-19 cases detected today (Updated)
PETALING JAYA: The Health Ministry is beefing up its health intervention campaign in the northern states of the peninsula to stem the spread of Covid-19 linked to the Tawar cluster.
Health director-general Tan Sri Dr Noor Hisham Abdullah said in a statement today that the activities would be concentrated in Kedah as 85% of new cases are linked to Tawar.
Several new infections in neighbouring Penang and Perlis have also been linked to the Tawar cluster.
Noor Hisham said the activities would include case detection, stricter enforcement of the standard operating procedures (SOPs) as well as closure of schools and business premises for disinfection and sanitisation.
Those who have been in close contact with Covid-19 patients will also be screened.
The Tawar cluster has recorded 73 confirmed infections since the index case – a local man who is a trader – was discovered on Aug 12.
He said a total of 4,051 individuals from this cluster have been screened.
Noor Hisham also reported that nationwide, there were six new cases as of noon yesterday, and three of them were from the Tawar cluster.
Of the others, one was a foreigner who had just arrived from Singapore. Of the remaining two, one was detected at Hospital Sultanah Bahiyah in Alor Star and the other was found in a screening exercise on symptomatic patients. One of them is also a Severe Acute Respiratory Syndrome (SARS) patient.
This brings the national tally 9,291.
Noor Hisham added that there are now 188 active cases, with nine being treated in intensive care units. Six of them need respiratory assistance.
There were no new fatalities reported, he said, leaving the death toll at 125.
He added that seven patients have since been discharged, bringing the number of those who have recovered to 8,978.
.
Ads by: Memento Maxima Digital
SPACE RESERVE FOR  ADVERTISEMENT
HA NOI:  No new cases announced on Friday morning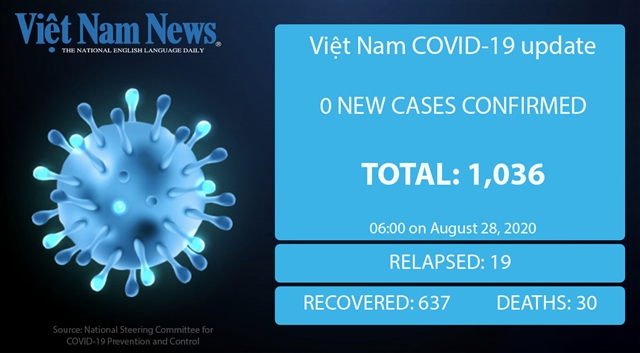 See also:
.
---
SIGN UP TO RECEIVE OUR EMAIL
.
The most important news of the day about the ASEAN Countries and the world in one email:  [email protected]
8.28.2020