ASEAN HEADLINE: FREE ASEAN-FREE PRESS: YANGON, Myanmar- A Burmese-Irish Family Quietly Equipping a Brutal Military
Senior Gen. Min Aung Hlaing, Myanmar's military commander in chief, during a parade for the 76th Armed Forces Day in Naypyidaw, the capital, in March.Credit…EPA, via Shutterstock
..
A Burmese-Irish family said all the right things, even as it helped Myanmar's rulers avoid sanctions scrutiny in buying airplanes, defense radar and more.
.
Worldly, Charming, and Quietly Equipping a Brutal Military
Three years ago, the Kyaw Thaung family partied at the Pegu Club. The venerable Burmese-Irish clan had restored the teak-lined establishment to its 19th-century glory, evoking the days when gin-sipping colonialists ruled. The Pegu Club project befitted the family's East-meets-West positioning and the optimism of a country newly engaging with the world.
Amid periodic power cuts in the rest of Yangon, the Kyaw Thaungs danced and sipped champagne among the new elite, including young entrepreneurs returned from exile, bejeweled daughters of generals, and even former political prisoners suddenly responsible for attracting foreign investment to the latest frontier market.
As Myanmar's military dictators ended decades of isolationism, the Kyaw Thaungs seemed to embody the perfect mix: an august family with a long history of charitable giving that was committed to the kind of business reforms needed to coax a corrupt, closed country into the global economy. But the main source of the family fortune, purported vaguely to be from property and import-export companies, was concealed behind a facade.
For all their efforts to differentiate themselves from the drug lords and business cronies who dominated Myanmar's economy, the Kyaw Thaungs were quietly equipping one of the world's most brutal militaries. Their partnership with the Tatmadaw, as the Myanmar military is known, deepened even as its generals committed ethnic cleansing against Rohingya Muslims. And it continued into this year, when the army staged a coup and seized full power of the country, killing more than 1,300 civilians so far, in the estimate of a monitoring group.
.
READ MORE:  https://aseanews.net/2021/12/26/free-asean-free-press-yangon-myanmar-a-burmese-irish-family-quietly-equipping-a-brutal-military/
.
SPACE RESERVE FOR  ADVERTISEMENT
/
MYANMAR
COVID-19 OUTBREAK
.
.
SPACE RESERVE FOR  ADVERTISEMENT
ASEAN Covid-19 Table – 26 December 2021
Asean as a whole has reported more than 14.7 million COVID-19 cases. Of this, more than 570,000 are active cases as of December 26.
The coronavirus COVID-19 is affecting 219 countries and territories around the world and 2 international conveyances.
.
SPACE RESERVE FOR  ADVERTISEMENT
/
1. BRUNEI:
.
12.26.21

Vaccination rate at 94.4pc: MoH
Some 94.4 per cent of the population received at least one dose of the COVID-19 vaccine under the National COVID-19 Vaccination Programme as of December 24, while 92.9 per cent have completed the primary immunisation schedule and 14.35 per cent had received a third dose.
More details in Sunday's Borneo Bulletin.
SPACE RESERVE FOR  ADVERTISEMENT
2. CAMBODIA:
As of Decmber 25, 14,244,105 people vaccinated in Cambodia against COVID-19

.
A total of 14,244,105 out of the estimated 16 million population in Cambodia have received at least one dose of the COVID-19 vaccine, since the campaign began on February 10 this year.
Of this number, a total of 13,624,353 have been fully vaccinated with two doses of the vaccine.
A further 3,365,389 of those fully vaccinated have received their third or booster dose as of the same date.
READ MORE: https://www.khmertimeskh.com/50995100/as-of-decmber-25-14244105-people-vaccinated-in-cambodia-against-covid-19/
SPACE RESERVE FOR  ADVERTISEMENT
3. INDONESIA:

.Latest official COVID-19 data
Confirmed 4,261,667
Deaths 144,053
Recovered 4,112,901
Source: Indonesian government
Last Update: Dec 25, 2021
.
Markets
Responsible investment on rise as IDX launches ESG-based indexes
IDX president director Inarno Djajadi (third left) and Kehati Foundation executive director Riki Frindos (third right) during the launch of ESG Sector Leaders IDX KEHATI and ESG Quality 45 IDX KEHATI index at the Indonesia Stock Exchange (IDX) building on Monday (20 December 2021).
.
Eisya A. Eloksari (The Jakarta Post) /  Thu, December 23, 2021
.
The Indonesia Stock Exchange (IDX) has two new indexes that are based on environmental, social and governance (ESG) scores, catering to growing investor interest in the performance of companies beyond their corporate financials. The two indexes were launched on Monday in collaboration with the Indonesian Biodiversity Conservation Trust Fund (Kehati) Foundation.
READ MORE:  https://www.thejakartapost.com/business/2021/12/23/responsible-investment-on-rise-as-idx-launches-esg-based-indexes.html
.
SPACE RESERVE FOR  ADVERTISEMENT
/
4. LAOS:
12/24/21
Poland donates 501,000 doses of Covid vaccine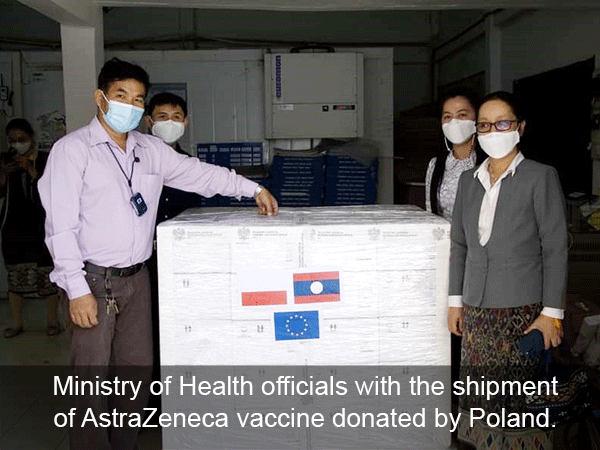 A shipment of 501,000 doses of the AstraZeneca Covid-19 vaccine provided to Laos by the government of Poland arrived in Vientiane on Tuesday.
As the Covid outbreak spreads in Laos, the government is mobilising assistance from various sectors and friendly countries to supplement its own resources.
Ministry of Health officials received the shipment at the Lao-Thai Friendship Bridge in Vientiane.
"The arrival of the AstraZeneca vaccine donated by Poland is very timely as the government has set an ambitious target to vaccinate 50 percent of the population by the end of this year and about 70 percent by the end of next year," a senior ministry official said.
.
SPACE RESERVE FOR  ADVERTISEMENT
/
 5. MALAYSIA:
Covid-19: New cases continue downward trend, 3,160 cases Saturday
.
KUALA LUMPUR: New daily Covid-19 cases in the country continued a downward trend, with 3,160 cases reported today compared with 3,528 yesterday, said Health director-general, Tan Sri Dr Noor Hisham Abdullah.
Today is the sixth consecutive day that the country recorded a daily case count below 4,000; the last time the number of cases exceeded 4,000 was on Dec 18, with 4,083 cases.
READ MORE: https://www.thesundaily.my/local/covid-19-new-cases-continue-downward-trend-3160-cases-saturday-II8695875
12.24.21
SPACE RESERVE FOR  ADVERTISEMENT
/
6.  MYANMAR:
Myanmar rescuers recover third body after jade mine disaster
YANGON (AFP) – Rescuers in northern Myanmar retrieved two more bodies on Thursday after a landslide at an illegally run jade mine and warned that dozens of people feared missing are likely dead.
Scores die each year working in the country's lucrative but poorly regulated jade trade, which sees low-paid migrant workers scrape out gems highly coveted in neighbouring China.
Rescuers pulled two more bodies from the nearby lake on Thursday taking the confirmed death toll to three after one casualty was found the previous day before the operation was cut short due to fog and overnight rain.
 READ MORE:  https://www.khmertimeskh.com/50994379/myanmar-rescuers-recover-third-body-after-jade-mine-disaster/
.
SPACE RESERVE FOR  ADVERTISEMENT
/
7. PHILIPPINES:
HEADLINES
Duterte declares state of calamity in 6 regions ravaged by 'Odette'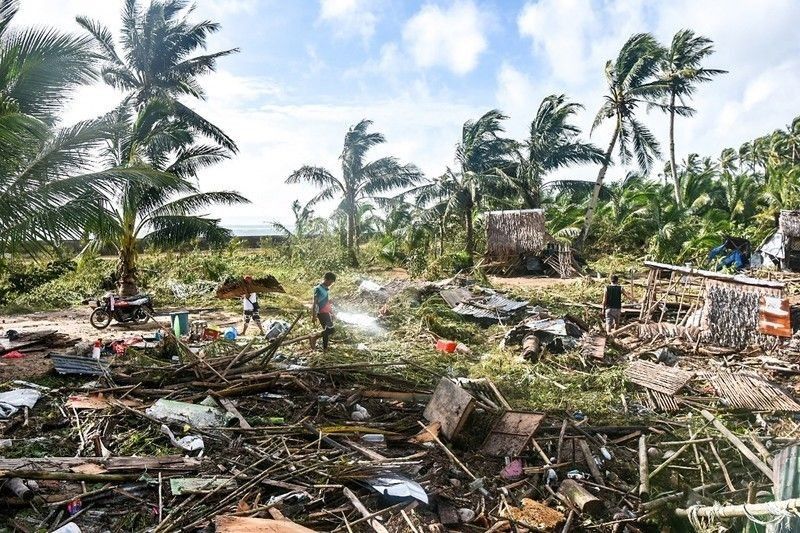 MANILA, Philippines — President Rodrigo Duterte has placed six regions battered by Typhoon Odette under a state of calamity, a declaration that puts in place a price freeze and allows the release of emergency funds.
Under Proclamation No. 1267 that Duterte signed on Tuesday, the regions of MIMAROPA, Western Visayas, Central Visayas, Eastern Visayas, Northern Mindanao and Caraga will be under a state of calamity for one year "unless sooner lifted in accordance with law."
Today's Paper: December 26, 2021
SPACE RESERVE FOR  ADVERTISEMENT
/
8. SINGAPORE:
Planning to travel to Singapore over the holiday season? Here's what you need to know
SINGAPORE – Those planning to buy tickets for quarantine-free travel to Singapore will have to shelve their plans for now.
The Ministry of Health (MOH) announced on Wednesday (Dec 22) that travel restrictions will be tightened amid a surge in Omicron cases in several countries and regions.
The move will buy Singapore time to shore up its defences against the new Covid-19 variant, the ministry said.
READ MORE:   https://www.straitstimes.com/singapore/transport/planning-to-travel-to-singapore-over-the-holiday-season-heres-what-you-need-to-know
SPACE RESERVE FOR  ADVERTISEMENT
/
9. THAILAND:
Thailand reports first domestic Omicron 'cluster' – and is investigating several others

Cambodia's direct neighbour Thailand has reported it's first domestic 'cluster' of 21 cases of the mutant COVID variant Omicron, which it says came from European travellers to the country.
Thailand's COVID-19 taskforce spokeswoman Apisamai Srirangsan announced the cases today, saying that the cluster had been detected in Kalasin province in north-eastern Thailand
She added that the infections had been traced to a Belgian couple who had travelled from Belgium through the country's now closed 'Test & Go scheme' that waived quarantine for vaccinated arrivals.
Ms Srirangsan said that the Belgian couple had both tested negative for COVID both before travel and after arrival in Thailand in early December.
"By December 15, they started having symptoms and tested positive and were later confirmed to have the Omicron variant," she said.
In addition, health official Supakit Sirilak told a separate news briefing that other clusters are being investigated in the south of the country
Thailand has currently recorded 205 infections from the Omicron variant, mostly in foreign arrivals.
Of that number, 25 are local cases that were infected from people travelling to Thailand
10. VIET NAM:
.


15,586 new COVID-19 infections reported nationwide, Hà Nội registers most cases for 7th straight day
Update: December, 25/2021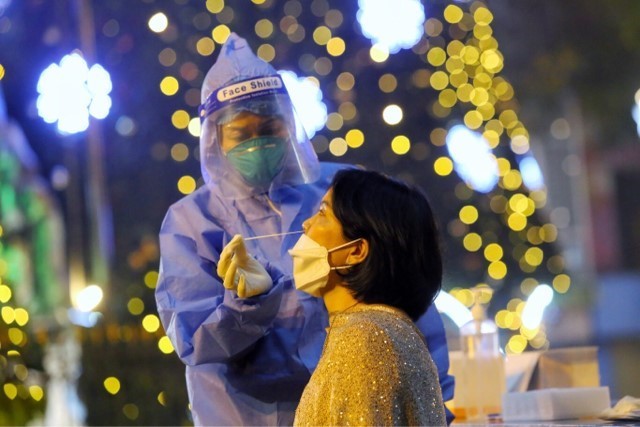 .
HÀ NỘI — A total of 15,586 new COVID-19 cases were recorded across the country on Saturday, bringing the national tally to 1,636,455.
With 1,879 transmissions, Hà Nội again registered a record number of infections, and was the locality with the most cases nationwide for the seventh consecutive day.
More than half new virus incidences, 8,077, were community transmissions.