TODAY'S HEADLINES: US top diplomat for ASEAN due by October: Envoy
.
World leaders attend the 77th Session of the United Nations General Assembly at UN Headquarters in New York City, the United States, on Sept. 21, 2022.(Reuters/Mike Segar)
The United States' newly sworn-in envoy to ASEAN will arrive in Jakarta by October to fill a post that had been left vacant "for a very long time", Indonesian Ambassador to the US Rosan P. Roeslani revealed on Wednesday.
.
In May, US President Joe Biden revealed his nomination of Yohannes Abraham, the former chief of staff and executive secretary of the National Security Council, during the US-ASEAN Special Summit in Washington, DC.
.
In his previous role, Abraham worked closely with others responsible for setting up and executing the Biden administration's Southeast Asia policy, which the US State Department said made him a "well-qualified candidate" for the ASEAN post.
Tramaditya Salim
The Jakarta Post
United Nations
Fri, September 23, 2022
to Read Full Story
Click to read: https://www.thejakartapost.com/indonesia/2022/09/22/us-top-diplomat-for-asean-due-by-october-envoy.html.
Memento Maxima Digital Marketing
@[email protected]
SPACE RESERVE FOR ADVERTISEMENT
Today's Headlines: September 23, 2022
 <>
 9.19.22
 CAMBODIA
Mondulkiri airport project stalled after Chinese investor 'runs out of funds'
Khmer Times
Ambitious plans to build a major airport in remote Mondulkiri province appear to have come to a stop after it was reported that the Chinese firm behind the project has run out of funds
Mr. Sin Chanserivutha, Undersecretary of State and Spokesman for the Secretariat of State for Civil Aviation, confirmed that so far the Mondulkiri Airport Development Project is still idle.
He stated that "As a result of the COVID-19 crisis, which has affected many companies, the Chinese company has suffered huge losses, and he has stated that he can no longer afford to continue investing,".
According to Mr. Sin, the Secretariat of State for Civil Aviation has proposed 3 scenarios to the to the Ministry of Economy and Finance to resurrect the project – namely:
1.Examine the possibility of taking the state budget to use on this construction process
2.Examine the feasibility of using concessional loan funds from the World Bank or the Asian Development Bank
3. Find another private partner to study construction feasibility.
The proposed Mondulkiri Airport was to be built on an area of ​​300 hectares, about 20 kilometres from Sen Monorom, with an estimated investment of more than $ 80 million.
<>
School gardens a lifeline for hungry Cambodian children
.
.
SIEM REAP: Among the spinach crops at a rural Cambodian school garden, children test their maths skills while weighing produce — but as food prices rise, the vegetable patch has become a safety net for struggling families.
Long before Covid restrictions ravaged the economy, malnutrition and poverty stalked Cambodia's youth — the legacy of decades of conflict and instability following the Khmer Rouge's genocidal rule in the 1970s.
Food insecurity has worsened since Russia's invasion of Ukraine stoked global shortages and inflation.
The World Food Programme (WFP) the prices of local staples have shot up in the past year: duck eggs by more than 20 percent and cooking oil by almost 40 percent.
READ MORE :  https://www.manilatimes.net/2022/09/06/latest-stories/school-gardens-a-lifeline-for-hungry-cambodian-children/1857433
<>
9.23.22
<>
Ad by:
Memento Maxima Digital Marketing
@[email protected]
SPACE RESERVE FOR ADVERTISEMENT
9.23.22
<>
Ads by:
Memento Maxima Digital Marketing
@[email protected]
SPACE RESERVE FOR ADVERTISEMENT
9.23.22
Malaysia urges Asean to engage Myanmar shadow government
ANN/STRAITS TIMES – Malaysian Foreign Minister Saifuddin Abdullah again urged Asean to engage with Myanmar's National Unity Government (NUG) to help resolve the country's political crisis, after hosting a meeting with the shadow government's leaders on Monday.
Speaking alongside NUG's Minister of Human Rights Aung Myo Min and Minister of Communications, Information and Technology Htin Linn Aung after their meeting on the sidelines of the United Nations (UN) General Assembly in New York, Saifuddin said Asean should use a framework "that has a clear end game – that is bringing back democracy in Myanmar, that is realised through an inclusive and fair negotiation and participation of major stakeholders including NUG and NUCC".
The NUCC, or National Unity Consultative Council, comprises a broad group of Myanmar stakeholders opposed to the military regime and is helping to shape a federal democracy for Myanmar.
Saifuddin said the transition plan for Myanmar may include rewriting its Constitution. "And if it is required to have another election… then that election has to be agreed upon by the stakeholders and definitely not the election that has been announced by the junta."
Saifuddin has been Asean's most vocal proponent for engagement with the NUG.
The meeting was his second public meeting with NUG leaders since May, when he met NUG foreign minister Zin Mar Aung on the sidelines of the United States (US)-Asean Summit in Washington.
Also present during the meeting were members of an international Parliamentary inquiry on the global response to the Myanmar crisis initiated by the Asean Parliamentarians for Human Rights (APHR), a grouping of regional legislators.
Myanmar's military seized power from its civilian government on February 1 last year, triggering a mass resistance that has now turned into a civil war in parts of the country.
The military junta led by commander-in-chief Min Aung Hlaing alleges that the 2020 general election was fraudulent, and plans to hold fresh elections under new rules that will make it difficult for the ousted National League for Democracy party to return.
Close to one million people have been displaced since the coup, while more than 12,000 political prisoners remain behind bars.
The junta is vying with the NUG for international recognition, including at the UN, where it wants to install its own appointee. The current Myanmar permanent representative to the UN is Kyaw Moe Tun, who is loyal to the NUG.
The junta, meanwhile, regards the NUG as an extremist organisation and has refused to engage with it.
It dragged its feet on implementing Asean's"five-point consensus", which calls, among other things, for the violence in Myanmar to stop and for inclusive dialogue among parties concerned.
Asean barred Min Aung Hlaing and junta foreign minister Wunna Maung Lwin from its high level meetings, but continues to allow other junta ministers to take part in the bloc's proceedings.
Asean, however, has not formally engaged with the NUG or NUCC – something which Saifuddin said Malaysia was "not satisfied" with.
"We have made this call months ago that Asean should engage the NUG and the NUCC," he said.
<>
Ads by:
Memento Maxima Digital Marketing
@[email protected]
SPACE RESERVE FOR ADVERTISEMENT
 9.22.22
The newspaper, once regarded as one of the best in Myanmar, went through years of turmoil after the…
Published on 
Apr 19, 2022
 <>
.
Myanmar Times' Burmese Daily Edition Fires Editor-in-Chief, 12 Other Journalists Without Notice
The Myanmar Times office on Bo Aung Kyaw Road (Upper Block), Kyaukdata Township, Yangon. July 19, 2019. (Myanmar Now)
Managers at The Myanmar Times have fired 13 journalists, including the editor-in-chief, from the newspaper's Burmese language daily edition without any prior warning.
Staff were told about the layoffs at an "emergency meeting" midday Thursday and asked not to come into the office the following day, said Than Naing, one of the editors who was fired.
"They should have notified us at least one month in advance," he told Myanmar Now.
There were 41 people on the editorial team before the sackings. The edition's chief correspondent, Zeyar Lin, was also among those laid off.
Two of the fired employees confirmed they were compensated with two and a half months' salary in lieu of prior notice, which is in line with labour laws.
Soe Myint, who was an executive editor at the paper until yesterday, said he felt the decision was made by the owner, Thein Tun, in the newspaper's best interest.
<>
Myanmar Times lays off 70 employees
Company says layoffs will only last until July, though some staff see attempt to skirt labor laws
The Myanmar Times has laid off 70 of its employees, including 30 journalists, staff told Myanmar Now on Wednesday.
The layoffs are meant to last just until July, staff said.
Staffers will be paid 50% of their wages throughout May and will have to take June off as unpaid leave, said Wai Lin, the paper's chief operating officer.
"We have not fired them," he said. "At the end of June, we'll make a decision on whether or not to call them back in."
The paper would not offer a reason for the layoffs, but the Covid-19 pandemic has hit newspaper revenues across the world, forcing layoffs and closures elsewhere.
Some employees have criticised the move as a way of firing employees without paying severance payments required by the labor ministry.
Under law, severance entitlements are determined by how long an employee has been at a company.
"If they want to remove all of us at once, compensate us according to the rules and regulations," an employee who requested anonymity told Myanmar Now. "Now it's awkward. It feels like they're making decisions in secrecy."
Wai Lin denied the move was an attempt to skirt the law.
"If they don't want to stay, we'll terminate them and follow the regulations of the labor ministry," he said.
Ads by:
Memento Maxima Digital Marketing
@[email protected]
SPACE RESERVE FOR ADVERTISEMENT
.
Today's Paper: September 23, 2022
9.23.22
Marcos -Romualdez Family Newspaper- The Manila Times Political Troll … propagates FAKES NEWS
PAGE ONE SINGLE

September 23, 2022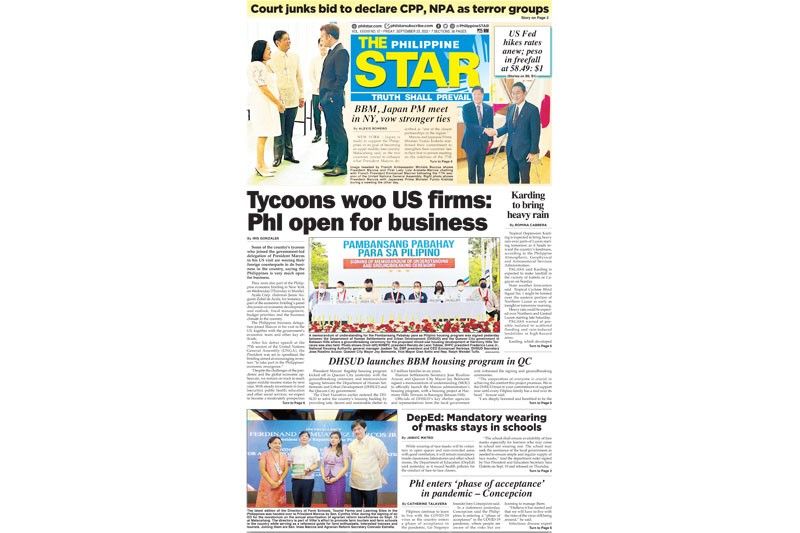 <>
Ads by:
Memento Maxima Digital Marketing
@[email protected]
SPACE RESERVE FOR ADVERTISEMENT
.
SINGAPORE |
Queen Elizabeth's funeral: Her final journey from Westminster Abbey to Windsor
LONDON – After the funeral service for Queen Elizabeth II at 11am local time (6pm Singapore time), the ceremonial processions taking her coffin to London's Westminster Abbey and then towards her burial place at Windsor reflect the ancient traditions of the British monarchy.
1. Hauled by the Royal Navy
Royal Navy sailors will use ropes to pull the queen's lead-lined coffin mounted on a gun carriage from Westminster Hall to Westminster Abbey. Their comrades in a team of 142 sailors will walk alongside to act as a brake if necessary.
This tradition dates back to Queen Victoria's funeral in February 1901.
The horses meant to haul the gun carriage weighing more than two tons panicked and began kicking, threatening to drop the coffin.
One of the queen's relatives, Prince Louis of Battenberg, a Royal Navy captain, suggested to the new king, Edward VII, that this problem could be avoided by replacing horses with sailors.
Nine years later when Edward VII himself died, this idea was put into practice again and it has since become an unchanging tradition at state funerals.
 .
Ads by:
Memento Maxima Digital Marketing
@[email protected]
SPACE RESERVE FOR ADVERTISEMENT
 <>
9.23.22