TODAY'S HEADLINES: UNITED NATIONS, N.Y.- Laos voices support for education at UN Summit
.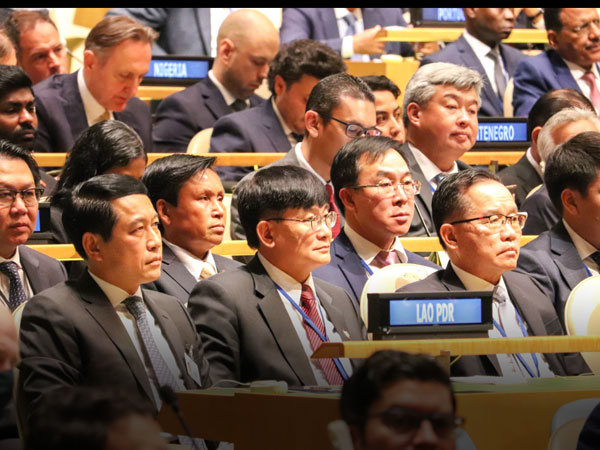 The Lao delegation attends the global UN Transforming Education Summit in New York.
.

Protecting and maximising investments in early childhood education is now more urgent than ever in light of the Covid-19 pandemic's impact on children's development, especially the most vulnerable, a senior official has said.
Minister of Education and Sports, Assoc. Prof. Dr Phout Simmalavong, made the statement when speaking at the global UN Transforming Education Summit in New York.
.
The three-day summit, convened by the UN Secretary-General as part of the 77th session of the UN General Assembly, took place from September 17-19 and gathered education leaders from around the world with the aim of seeking solutions to the global learning crisis created by the pandemic.
Discussions centred on five key themes, namely schools, curricula and lifelong learning, teachers, digital transformation, and education finance.
"The Lao government attaches great importance to upholding the right to education for all and reaffirms its commitment to supporting the recovery of learning," the minister said.
During the summit, the Lao delegation presented its National Commitment to Transforming Education, which was developed through a consultative process engaging a range of stakeholders, from government ministries and development partners to teachers and students.
Countries will be expected to follow up on the implementation of their National Commitments to Transform Education following the summit.
"Only one in three of 10-year-old children globally can read a simple sentence or understand a simple story. Now, the Covid-19 pandemic has pushed education systems around the world further into a learning crisis and disrupted the education of more than 90 percent of the world's children," UNICEF Representative to Laos Dr Pia Rebello Britto said.
"However, the pandemic also presents us with the opportunity to fundamentally transform how education is delivered and to strengthen the quality of education for all," she added.
In a parallel session, the ministerial delegation took part in a panel discussion on ways to achieve holistic and equitable digital transformation, citing the success of Laos' digital teaching and learning platform "Khang Panya Lao".
In addition, Lao officials held meetings with representatives of other governments, the private sector and academia to discuss ways to improve the quality of education in Laos.
By Times Reporters
(Latest Update September 22, 2022)
Memento Maxima Digital Marketing
@[email protected]
SPACE RESERVE FOR ADVERTISEMENT
Today's Headlines: September 24, 2022
 <>
 9.19.22