ASEAN ARTS-NATIONAL ARTS MONTH: MANILA – Cool things to see, do at the first-ever Ortigas Art Festival at Estancia
The Ortigas Arts Festival will excite art lovers and mall-goers with well-curated exhibits reflecting the Philippine contemporary art scene.
.
.
MANILA, Philippines — Take a break from your weekly routine and escape the confines of your work desk to discover life through art and all its richness and complexity.
See and be inspired by today's up-and-coming artists as they share their colorful views of the world at the first-ever Ortigas Art Festival running until March 26 at the Estancia Bridgeway in Capitol Commons, Pasig City.
Just in time for National Arts Month, the Ortigas Art Festival excites art lovers and mall-goers with well-curated exhibits that reflect the best of the contemporary art scene.
image: https://video.unrulymedia.com/native/images/in-art-close-icon-128×128-16481b937f87b244a645cdbef0d930f8.png
.
– YOUR ADVERTISEMENT HERE –
.
From Peter Sutcliffe's inspiring watercolor dreams to Allison Wong-David's ingenious and thoughtful metal space, to photographer Helen Furlong Mirasol's moving captures see life through different lenses.
Here are five things you shouldn't miss during this month-long festival!
.
1. Watercolor tutorial by Peter Sutcliffe
Renowned watercolor artist Peter Sutcliffe hosts a workshop on March 4 and 25, at 1 p.m. A distinguished artist, Sutcliffe has been painting for over half a century and brings his creative wisdom to the free art demo.
Inviting the public, Sutcliffe shared, "One the biggest misconceptions people have is that art is just for a select few. No, everyone is an artist. Don't worry if you don't know how to draw or paint, because just like teaching someone how to swim or ride a bike, I can teach you the basics of art. What is important is to remember that art — at its very core — is about expressing your view of the world, as you see it and feel it."
2. 'Alla prima' painting workshop by Ato Habulan
A formidable force in the art scene, Ato Habulan teaches aspiring artists and curious creatives "alla prima," which is a unique painting technique that entails applying wet paint in layers. Catch the master at work and join his workshop on March 11 at 1 p.m.
.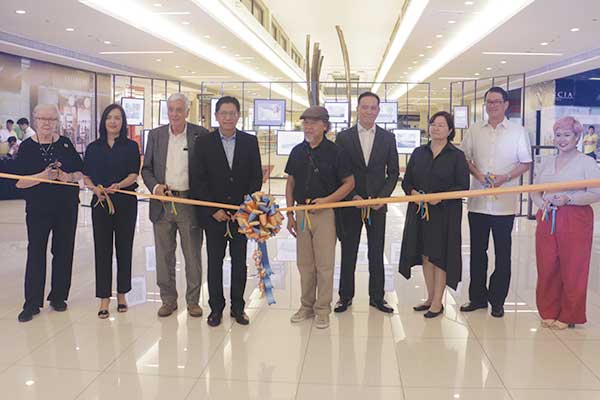 Launched just in time for the National Arts Month, the month-long art festival is currently running at the Estancia Bridgeway in Capitol Commons. Philstar.com/EC Toldeo
.
3. Photo exhibit featuring Helen Furlong Mirasol 
Celebrated photographer Helen Furlong Mirasol captures the beautiful, fleeting moments of everyday life and lends a sense of meaning to the mundane.
Each photograph showcases Mirasol's observant eye and her clear ability to capture the profound. See the beautiful, the poignant and even the painful moments captured in each frame.
4. Live art: Mural making
Kalye Kolektib, the group of young talented arts who hail from the South of the Metro, show how art truly becomes an immersive experience as they bring to life their thoughts and design. See the artists come together in a cool collaboration as they hold a live art session on March 18, 1 p.m.
5. 'Refuge' by Allison Wong-David
Allison Wong-David's imaginative metal work and installation, titled "Refuge," seamlessly blends into the mall space and literally invites you in. Step inside and find a moment of quiet for self-reflection.
6. Take a walk through fantastical words
See the world through the eyes of today's most talented artists as Tuklas, Biskeg, Kalye Kolektib and Eskinita Kontemporaryo — some of the most active art collectives in Manila today — fill up Alfredo Esquillo's Eskinita Gallery. The collectives present powerful showcases that boldly explore life, art, politics and spirituality.
Lastly, check out the solo exhibits of Anthony Victoria, Arvi Fetalvero, Bon Mujeres, Ged Merino and Richard Buxani.
For more information, follow Estancia at Capitol Commons online at www.facebook.com/EstanciaPH or Instagram: @estanciaph.
Philstar.com /  March 5, 2018 – 2:30pm /
NOTE : All photographs, news, editorials, opinions, information, data, others have been taken from the Internet ..aseanews.net | [email protected] | For comments, Email to : Goldenhands Arts Club | [email protected]| Contributor