ASEAN Football Federation (AFF) Cup: KUALA LUMPUR – Việt Nam held by Malaysia in first leg of AFF Cup
Vietnamese players celebrate Huy Hùng's goal in the first leg of the AFF Suzuki Cup final in Malaysia. VNA/VNS Photo Hoàng Linh
.
HÀ NỘI – Việt Nam blew a 2-0 lead in the first leg of their AFF Cup against Malaysia but will return home for the second leg on Saturday having left the Bukit Jalil Stadium in Kuala Lumpur with a 2-2 scoreline.
Việt Nam had raced into the lead with two goals in the first 25 minutes.
"Today, Việt Nam's youngsters played good football and we were tough. The draw gives an advantage for the second leg in Hà Nội," said captain Quế Ngọc Hải after the match.
"I want the players to keep up their enthusiasm and desire to win in the second leg. On behalf of the Việt Nam team, I want to thank the Vietnamese fans very much. We promise to give them the result they deserve," Hải added.
With around 90,000 fans in the stadium, the hosts looked dangerous from the get-go, and defender Trần Đình Trọng was forced into evasive action to prevent them from opening the scoring.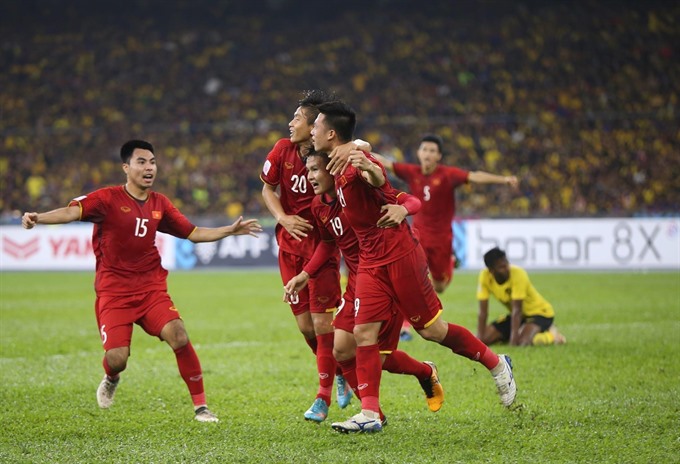 Việt Nam looked solid in the first leg of the AFF Suzuki Cup final at the Bukit Jalil Stadium in Kuala Lumpur. VNA/VNS Photo Hoàng Linh

.

ADS by Cloud 9:
.
– SPACE RESERVE FOR YOUR ADVERTISEMENT –
.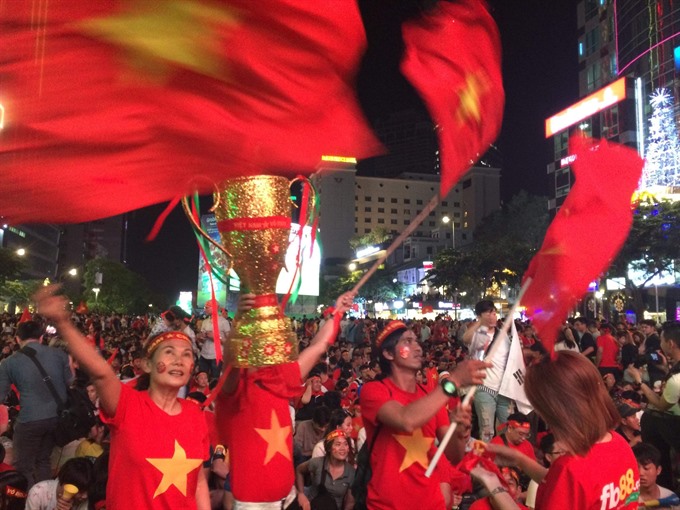 Vietnamese fans on Nguyễn Huệ Street in HCM City. VNA/VNS Photo Xuân Dự
.
Just five minutes in, Việt Nam had their first chance when midfielder Đoàn Văn Hậu headed a corner from Nguyễn Quang Hải against the crossbar, giving Malaysia a warning of what was to come.
In the 22nd minute, midfielder Phan Văn Đức played Nguyễn Huy Hùng in to score the opening goal for Việt Nam.
Just three minutes later, Phạm Đức Huy scored a screamer from outside the box to double the away side's lead.
Malaysia's goalkeeper Farizal Marlias came under increasing pressure, but managed to keep his team in the game.
The hosts fought back strongly and their efforts paid off with a goal from Shahrul Saad in the 36th mminute.
With the first half drawing to an end, striker Hà Đức Chinh had a glorious opportunity to put the match to bed after receiving a pass from Hải but skewed his effort, and Malaysia nearly grabbed an equaliser before the interval only for goalie Dang Van Lâm to deny Zaquan Adha.
After the break Việt Nam continued to dominate the game. However, head coach Park Hang-seo decided to change his attacking line, replacing Chinh for Nguyễn Tiến Linh.
Linh almost immediately found himself in a goalscoring position, but the Becamex Bình Dương player was unable to convert the chance.
Following a counter attack, Vietnamese midfielder Hậu received a controversial yellow card.
.
ADS by Cloud 9:
.
– SPACE RESERVE FOR YOUR ADVERTISEMENT –
.
The hosts scored their equaliser in the 60th minute, with Safawi Rasid curling in a free kick that wrong-footed Lâm.
The game swung back and forth in the closing minutes, and Lâm was forced to scramble away a free kick in the dying seconds
Th final return leg will take place at the Mỹ Đình National Stadium in Hà Nội on Saturday with a sea of Vietnamese fans.
Việt Nam team will be awarded VNĐ1 billion (US$43,500) from sponsor VinaPhone. Thanks to the result, while Hùng, who scored the first goal, will get $43,500 from sponsor Eurowindow.
.
It's been 10 years since Việt Nam won the AFF Cup. – VNS
.
ADS by Cloud 9:
.
– SPACE RESERVE FOR YOUR ADVERTISEMENT –
.
.

All photographs, news, editorials, opinions, information, data other shave been taken from the Internet.  For comments, Email to :ASEANEWS | [email protected]
.              .                   .         SPORTS STATION | sportsstation