ASEANEWS HEADLINES: High-value Target (Malayan Tiger)
 ASEANEWS HEADLINES:
High-value target
.
.
With a price of up to RM800,000 on its head, the Malayan Tiger is prime bounty for poachers
A Malayan Tiger
.
KUALA LUMPUR: Foreign poachers are setting up camps in jungles in Peninsular Malaysia to hunt protected animals due to high price offered by illegal traders of wildlife parts.
A Malayan Tiger carcass can fetch between RM500,000 and RM800,000 and with that kind of money involved, foreign poachers are prepared to camp in the jungles for up to three months and use whatever means to kill the endangered animals.
Thousands of snares have been planted in our jungles and the authorities are concerned that the situation may fall beyond rehabilitation if intense and constant enforcement action is not undertaken.
Three foreigners were held for such activities last year while seven have been arrested this year.
ADS by Cloud 9:
.
– SPACE RESERVE FOR YOUR ADVERTISEMENT –
"We have two issues to address – the poacher and the snares," federal police internal security and public order deputy director DCP Datuk Mastor Mohd Ariff said yesterday.
"There are more than 2,000 snares planted in the jungles. We managed to destroy more than 100. If a snare traps a tiger, its paw will snap off after a week or two. We have spotted such crippled tigers with a lost limb roaming the jungles. Some other animals were found dead as a result of the snares."
Mastor said police and the Department of Wildlife and National Parks launched an operation called Ops Bersepadu Khazanah on Sept 9 to curb poaching.
ADS by Cloud 9:
.
– SPACE RESERVE FOR YOUR ADVERTISEMENT –
Together with the police elite jungle tracking unit, Senoi Praaq of the General Operations Force, teams were dispatched to the jungles.
He said between Oct 10 and 20, four operations at Felcra Sungai Temau, Kuala Lipis, Kampung Padang Kunyit, Gerik, the Endau-Rompin National Park and Tembat Forest Reserve in Hulu Terengganu led to the arrest of seven Cambodians and three Malaysians aged between 30 and 50.
The raiding parties also seized pangolin scales, porcupine spikes, tiger hide, sandalwood, scores of snares and other animal parts estimated to be worth RM908,000.
"The foreigners enter Malaysia both legally and illegally. They will stay at makeshift camps for between one and three months to hunt protected animals before a new batch of foreigners take over.
"Initially, they did this for sandalwood but have now resorted to poaching as well. All these are smuggled into Thailand where they fetch high prices. Our operation will continue until we rid our jungles of such unscrupulous people."
ADS by Cloud 9:
.
– SPACE RESERVE FOR YOUR ADVERTISEMENT –
Rangers guarding two suspected poachers and some seized items.
ADS by Cloud 9:
.
– SPACE RESERVE FOR YOUR ADVERTISEMENT –
A group of suspected poachers and their paraphernalia.
ADS by Cloud 9:
.
– SPACE RESERVE FOR YOUR ADVERTISEMENT –
Pictures taken by police during the operations.
ADS by Cloud 9:
.
– SPACE RESERVE FOR YOUR ADVERTISEMENT –
One of the campsites used by the poachers.
.
ADS by Cloud 9:
.
– SPACE RESERVE FOR YOUR ADVERTISEMENT –
Southeast Asia
.
Chinese demand for durians poses grave threat to 'critically endangered' Malayan tigers
Forests in the region of Raub in Malaysia are being burned and cleared to make way for plantations
The value of China's imports of durians has climbed an average of 26 per cent a year over the past decade, reaching US$1.1 billion in 2016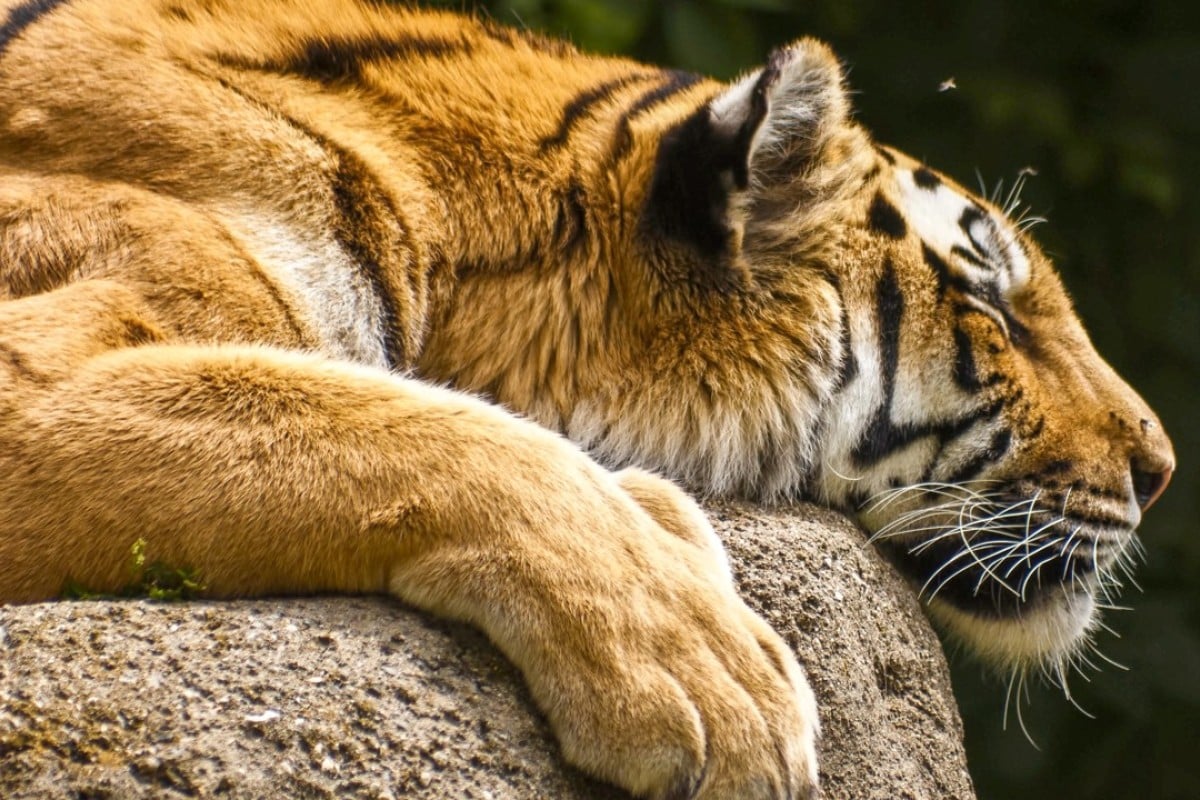 A Malayan tiger. Photo: SCMP Pictures
ADS by Cloud 9:
.
– SPACE RESERVE FOR YOUR ADVERTISEMENT –
The habitat of one of the world's most endangered tigers is under threat, according to environmental groups, as forests in Malaysia are cleared to meet growing demand for durians, the divisively pungent fruit hugely popular in China.
Forests in the region of Raub in Malaysia, which has become a popular destination for Chinese and Singapore tourists on "durian tours", are being burned and cleared to make way for plantations to grow the Musang King variety of the spiky but stinky fruit.
The land is home to the Malayan tiger, which is considered "critically endangered" with fewer than 300 left in the world. Environmental groups have said destroying their habit could have a "devastating" impact on the tigers' survival.
ADS by Cloud 9:
.
– SPACE RESERVE FOR YOUR ADVERTISEMENT –
ADS by Cloud 9:
.
– SPACE RESERVE FOR YOUR ADVERTISEMENT –
Siti Zuraidah Abidin from WWF Malaysia said the Hulu Sempan area, where new plantations are planned, had been designated an "expected tiger habitat". The area is near a protected area where most of the tigers live, she said. Malayan tigers are found only on the Malay Peninsula and in the southern tip of Thailand.
"Land clearing at Hulu Sempam can cause the wider forests to be fragmented, which in turn can affect the wildlife movement," she said.
It is believed 1,213 hectares of land in Hulu Sempan will eventually be cut down for the durian plantation by Perbadanan Setiausaha Kerajaan, a company linked to the government.
.
ADS by Cloud 9:
.
– SPACE RESERVE FOR YOUR ADVERTISEMENT –
"The project on that site does not need permission from the forestry department," confirmed the Pahang Forestry Department.
ADS by Cloud 9:
.
– SPACE RESERVE FOR YOUR ADVERTISEMENT –
The demand for durian in China has driven up prices and led to a surge in large-scale durian farming in Malaysia over the past year, with some predicting they could eventually replace palm oil as Malaysia's biggest export. However, just as palm oil has led to the destruction of the habitat of endangered wildlife such as orangutans, campaigners are concerned the shift towards durian will prove equally destructive to the endangered tiger population.
ADS by Cloud 9:
.
– SPACE RESERVE FOR YOUR ADVERTISEMENT –
It is a lucrative market. The value of China's fresh imports of durian fruit has climbed an average of 26 per cent a year over the past decade, reaching US$1.1 billion in 2016.
The world's current biggest exporter of durians is Thailand, every year exporting 402,661 metric tons worth US$495 million – of which 303,430 metric tons (worth US $394 million) were exported to China.
The fruit's odour has been described as resembling feet, onions and manure. It is so smelly that it is banned on Singapore's Rapid Mass Transit system.
This article appeared in the South China Morning Post print edition as: China's appetite for durian threatens rare tiger.
ADS by Cloud 9:
.
– SPACE RESERVE FOR YOUR ADVERTISEMENT –
MALAYSIA NEWS HEADLINES:
.
TRIVIA:
Malayan tiger
Jump to navigationJump to search
Malayan tiger
A Malayan tiger in Cincinnati Zoo
Scientific classification
Kingdom:
Animalia
Phylum:
Chordata
Class:
Mammalia
Order:
Carnivora
Suborder:
Feliformia
Family:
Felidae
Subfamily:
Pantherinae
Genus:
Panthera
Species:
Subspecies:

P. t. tigris

Trinomial name
Panthera tigris tigris
Range of the Malayan tiger
Synonyms
formerly:

P. t. jacksoni Luo et al., 2004
P. t. malayensis
The Malayan tiger is a Panthera tigris tigris population in Peninsular Malaysia. This population inhabits the southern and central parts of the Malay Peninsula, and has been classified as Critically Endangered on the IUCN Red List in 2015. The population was roughly estimated at 250 to 340 adult individuals in 2013, and likely comprises less than 200 mature breeding individuals and has a declining trend.
In the Malay language, the tiger is called harimau, also abbreviated to rimau.[6] It is also known as the southern Indochinese tiger, to distinguish it from tiger populations in northern parts of Indochina which are genetically different to this population.
.
ADS by Cloud 9:
.
– SPACE RESERVE FOR YOUR ADVERTISEMENT –
Taxonomic history
When in 1968 Panthera tigris corbetti was designated, the Malayan tiger was included into this subspecies. In 2004, Panthera tigris jacksoni was recognised as a distinct subspecies as a genetic analysis indicated differences in mtDNA and micro-satellite sequences to Panthera tigris corbetti.
Since revision of felid taxonomy in 2017, the Malayan tiger is recognised as a P. t. tigris population. However, a genetic study published in 2018 supported six monophyletic clades based on whole-genome sequencing analysis of 32 specimens. The Malayan tiger appeared to be distinct from other mainland Asian tiger specimens, thus supporting the concept of six subspecies
ADS by Cloud 9:
.
– SPACE RESERVE FOR YOUR ADVERTISEMENT –
Naming controversy
When the tiger population of the Malay Peninsula was accepted as a distinct subspecies in 2004, the chairman of the Malaysian Association of Zoos, Parks and Aquaria argued that the new subspecies should be named Panthera tigris malayensis to reflect the geographical region of its range. As a compromise, it received the vernacular name "Malayan tiger", and the scientific name Panthera tigris jacksoni, which honours the tiger conservationist Peter Jackson. Nevertheless, P. t. malayensis was used by other authors.
ADS by Cloud 9:
.
– SPACE RESERVE FOR YOUR ADVERTISEMENT –
Characteristics
There is no clear difference between the Malayan and the Indochinese tigers, when specimens from the two regions are compared cranially or in pelage. No type specimen was designated.
Malayan tigers appear to be smaller than Bengal tigers. From measurements of 11 males and 8 females, the average length of a male is 8 ft 6 in (259 cm), and of a female 7 ft 10 in (239 cm).  Body length of 16 female tigers in the State of Terengganu ranged from 70 to 103 in (180 to 260 cm) and averaged 80.1 in (203 cm). Their height ranged from 23 to 41 in (58 to 104 cm), and their body weight from 52 to 195 lb (24 to 88 kg). Data from 21 males in the State of Terengganu showed that total length ranged from 75 to 112 in (190 to 280 cm), with an average of 94.2 in (239 cm). Their height ranged from 24 to 45 in (61 to 114 cm), and their body weight from 104 to 284.7 lb (47.2 to 129.1 kg).
ADS by Cloud 9:
.
– SPACE RESERVE FOR YOUR ADVERTISEMENT –
Distribution and habitat
The geographic division between Malayan and Indochinese tigers is unclear as tiger populations in northern Malaysia are contiguous with those in southern Thailand. In Singapore tigers were extirpated in the 1950s, and the last one shot in 1932.
Between 1991 and 2003, tiger signs were reported from early-succession vegetation fields, agricultural areas outside forests in Kelantan, Terengganu, Pahang, and Johor, and many riparian habitats outside forests in Pahang, Perak, Kelantan, Terengganu, and Johor. Most of the major rivers that drain into the South China Sea had some evidence of tigers, whereas those draining into the Straits of Malacca in the west did not.
Tiger signs were not reported from Perlis, Penang, and Malacca, and the federal territories of Kuala Lumpur and Putrajaya in the west coast. The total potential tiger habitat was 66,211 km2 (25,564 sq mi), which comprised 37,674 km2 (14,546 sq mi) of confirmed tiger habitat, 11,655 km2 (4,500 sq mi) of expected tiger habitat and 16,882 km2 (6,518 sq mi) of possible tiger habitat. All the protected areas greater than 402 km2 (155 sq mi) in size had tigers.
In September 2014 two conservation organisations announced that a camera trap survey of seven sites in the three separate habitats from 2010 to 2013 had produced an estimate of the surviving population from 250 to 340 healthy individuals, with a few additional isolated small pockets probable. According to the report, the decline meant that the species might have to be moved to the "Critically Endangered" category in the IUCN list.  As of 2019, due to poaching and the depletion of prey, the number of tigers in Belum-Temengor Forest Reserve has declined about 60% over a period of 7-8 years, from approximately 60 to 23.
ADS by Cloud 9:
.
– SPACE RESERVE FOR YOUR ADVERTISEMENT –
Ecology and behaviour
Malayan tigers prey on sambar deer, barking deer, wild boar, Bornean bearded pigs and serow. Malayan tigers also prey on sun bears,[20] young elephants and rhino calves. Whether their principal prey includes adult gaur and tapir is unknown. Occasionally, livestock is also taken; however, tiger predation reduces the numbers of wild boar which can become a serious pest in plantations and other croplands. Studies indicate that in areas where large predators (tigers and leopards) are extinct, wild pigs are over 10 times more numerous than in areas where tigers and leopards are still present.[21][22]
Tigers occur at very low densities 1.1–1.98 tigers per 100 km2 (39 sq mi) in the rainforest as a result of low prey densities, thus to maintain viable tiger populations of minimum of 6 breeding females, reserves need to be larger than 1,000 km2 (390 sq mi). Information on dietary preference, morphological measurements, demographic parameters, social structure, communication, home range sizes, dispersal capabilities are all lacking.
ADS by Cloud 9:
.
– SPACE RESERVE FOR YOUR ADVERTISEMENT –
Threats
Habitat fragmentation due to development projects and agriculture are serious threats.[15] Commercial poaching occurs at varying levels in all tiger range states. In Malaysia there is a substantial domestic market in recent years for tiger meat and manufactured tiger bone medicines.[24]
Between 2001 and 2012, body parts from at least 100 tigers were confiscated in Malaysia. In 2008, police found 19 frozen tiger cubs in a zoo. In 2012, skins and bones of 22 tigers were seized.[25]
The demand for tiger body parts used in Chinese traditional medicine apparently also attracts poachers from Vietnam, Thailand and Cambodia. Between 2014 and 2019, anti-poaching units removed around 1,400 snares from protected areas.
ADS by Cloud 9:
.
– SPACE RESERVE FOR YOUR ADVERTISEMENT –
Conservation
Tigers are included on CITES Appendix I, banning international trade. All tiger range states and countries with consumer markets have banned domestic trade as well.
The Malaysian Conservation Alliance for Tigers (MYCAT) is "an alliance of non-governmental organisations comprising the Malaysian Nature Society (MNS), Traffic Southeast Asia, Wildlife Conservation Society-Malaysia Programme and WWF-Malaysia."[26] It also includes the Department of Wildlife and National Parks.
In 2007, they implemented a hotline to report tiger-related crimes, such as poaching. In order to deter poaching, they organize "Cat Walks", a citizen patrol in danger zones.  MYCAT has a goal of increasing the tiger population.
ADS by Cloud 9:
.
– SPACE RESERVE FOR YOUR ADVERTISEMENT –
In captivity
The Cincinnati Zoo was the first zoo in North America to begin a captive breeding program for Malayan tigers with the importation of a male and three females from Asia between 1990 and 1992. The breeding program was as a Tiger SSP in 1998. There are also a few Malayan Tigers in Zoo Johor, Zoo Negara Kuala Lumpur and Zoo Taiping and Night Safari. As of 2011 there were 54 of this subspecies in North American zoos. The 54 individuals are located in 25 institutions and are descended from only 11 founders. Therefore, the plan of retaining a target of 90% genetic diversity over the next century is not possible unless other founders are added.
ADS by Cloud 9:
.
– SPACE RESERVE FOR YOUR ADVERTISEMENT –
Cultural references
The Malayan tiger is the national animal of Malaysia.
Two tigers are depicted as supporters in the coat of arms of Malaysia, coat of arms of Johor and in the coat of arms of Singapore. The tiger appears in various heraldry of Malaysian institutions such as Royal Malaysia Police, Maybank, Proton and Football Association of Malaysia. It symbolises bravery and strength to Malaysians. It is also the nickname for the Malaysian national football team. The tiger has been given various nicknames by Malaysians, notably "Pak Belang," which literally means "Uncle Stripes." Pak Belang features prominently in folklore as one of the adversaries of Sang Kancil (the mouse deer). The Malayan tiger was featured on Special Service Group insignia and Royal Malay Regiment insignia.
. .
 .
BELOW IS RESERVE FOR YOUR ADVERTISEMENT –
 .BELOW IS RESERVE FOR YOUR ADVERTISEMENT –
All photographs, news, editorials, opinions, information, data, others have been taken from the Internet..aseanews.net