30th SEA GAMES-SWIMMING/TAEKWONDO: Việt Nam Swimmers, Taekwondo artists bring home golds
.
HÀ NỘI — Swimming and taekwondo athletes brought two gold medals each for Việt Nam on the seventh day of the 30th Southest Asian Games on Saturday in the Philippines.
Nguyễn Thị Ánh Viên won both the women's 400m freestyle and 100m backstroke events, defending her titles comfortably.
The 23-year-old clocked 4min 13.20sec in the 400m freestyle. Gan Ching Hwee of Singapore and Natthanan Junkrajang from Thailand were second and third, respectively.
.
In the latter race, Viên finished with a time of 1:02.97. Chloe Kennedy Anne Isleta and Jasmine Alkhaldi, both of the hosts, were the runners-up.
Viên who is expected to win eight titles in this Games will take part in the 400m individual medley today. She is the defending champion.
Meanwhile, taekwondo martial artists took two golds in poomsae (performance) disciplines.
The experienced Châu Tuyết Vân and her four teammates triumphed in the freestyle mixed team. The Vietnamese group of five won over the jury and spectators with a stunning performance that earned 7.799 points, leaving the other teams far behind.
The Philippines took 6.866 points to place second and Indonesian got 6.799 points for their third seat.
"We overcame many difficulties to take the win. The victory is great effort of the whole team," said world champion Vân, who has won the title four times in a row
.
Minutes later, Nguyễn Thị Mộng Quỳnh topped the women's individual freestyle poomsae with 7.433 points. Olivia Janna Dominique of the hosts and Laosoongnearn Sakuna of Thailand were second and third, respectively.
The taekwondo poomsae team also took two silvers and two bronzes in other classes. The fighters will start their competitions on Sunday.
In the morning, the table tennis team ended a 10-year title drought after they won in the men's doubles event.
Duo Nguyễn Anh Tú and Đoàn Bá Tuấn Anh defeated Chua Josh Shao Han and Pang Yew En Koen of long-time dominating Singapore 3-1 in the final.
It is considered a historic mark for not only Việt Nam but also Southeast Asia as Singapore have dominated table tennis for years after they naturalised many Chinese players.
.
Other gold medals on the day went to the judo squad who won in the women's team who defeated Indonesia 3-2 in the final, while Trương Thị Phương took her second title after winning the women's 200m canoeing.
The athletics team won their first gold at the Games after finishing first in the 4x400m mixed relay. They finished in a time of 3min 19.50sec, setting a record as it was the first time this event had been held.
Olympic winner Hoàng Xuân Vinh secured a silver but he will be disappointed as the men's 10m air pistol is his strong suit.
Vinh was No 1 seed of the event and he led until the last three shots. But poor final shots dropped him to second position with only 239.6 points, 0.9 points less than winner Kulchairatt Pogpol of Thailand.
.
"I am not satisfied with this silver. This result is not expected," said Vinh.
"I have tried my best in the final but the last shots were not good and I lost my chance to win. I will have to review my plan and try hard for a berth in the coming Olympics," he said.
It was the second time in a row Vinh has failed in a SEA Games. Two years ago, he also finished second, losing to Malaysian Jonathan Wong.
Women's football
On Sunday, the women's football team of Việt Nam will play Thailand to defend their title.
.
Speaking at the pre-match briefing, coach Mai Đức Chung said his team had prepared all possible plans to ensure they won a gold.
"Thailand and Việt Nam have met many times, we know clearly about each other. We have worked on every angle to prepare for the final. We practised penalty shootouts too," said Chung.
"Our weak point of high balls is also fixed. We have solutions for that. I prepared and encouraged my players to have good spirit for the match. We are all ready," he added.
Coach Naruephon Kaenson of Thailand said his team were under heavy pressure after the male team were ousted from the Games. But his players would do best to overcome Việt Nam.
He said it would be a tough match although they drew in the group round. In the final, any mistake would be paid for.
The final at the Rizal Memorial Stadium will be live aired on VTV6 channel from 7pm. VNS.
.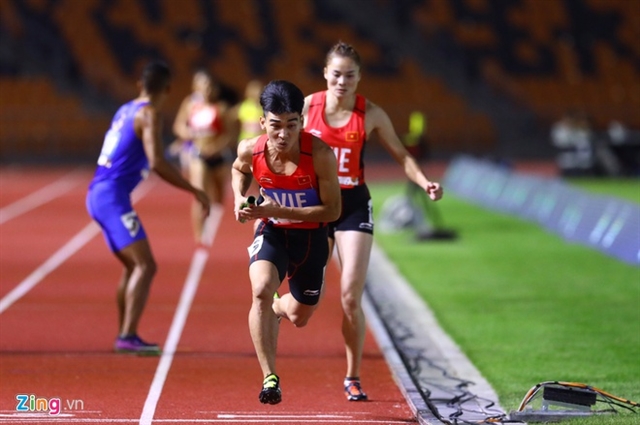 .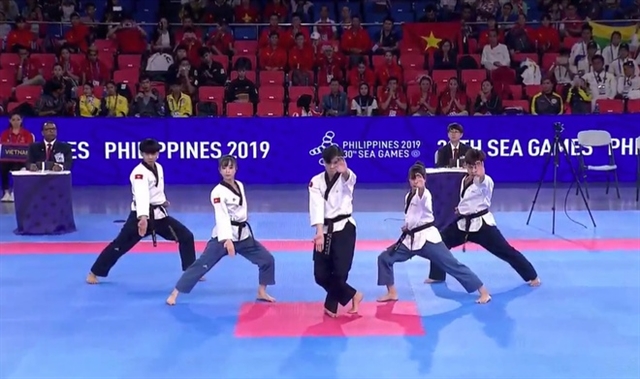 .
.