30th SEA GAMES-TENNIS: Việt Nam wins historic SEA Games tennis gold
.
.
HÀ NỘI — Lý Hoàng Nam won an historic tennis gold medal for Việt Nam at the SEA Games on Friday morning in the Philippines.
No 3 seed Nam beat No 1 Daniel Cao Nguyễn 6-2, 6-4 in the all-Vietnamese men's singles final.
It was the third time the two players have met, but the first time Nam has won.
.
In the first two games Nam suffered quick losses to a rival who had highest world ranking in Southeast Asia.
Nam became the first Vietnamese to take a SEA Games tennis gold, ending the nation's long-time title drought.
Earlier, Savanna Lý Nguyễn pocketed a silver for Việt Nam in the women's singles category.
She was defeated 6-0, 7-5 by No 2 seed Aldila Sutjiadi of Indonesia.
In the afternoon, Nam and his partner Lê Quốc Khánh and Daniel Cao Nguyễn/Nguyễn Văn Phương will compete in their men's doubles semi-final matches.
Early in the morning, Phạm Thị Hồng Lệ brought the first medal for Việt Nam's athletics in the women's marathon event.
.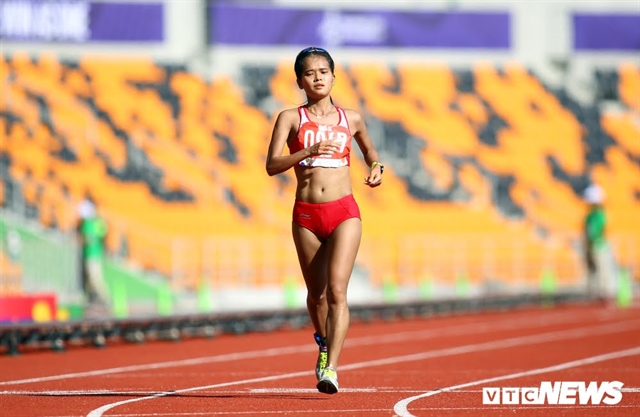 Hồng finished third with a time of 3hr 02.52min.
She was behind two athletes of the host nation.
"I just knew about the track half a day before the competition and I had no time to take a try," said Lệ.
"The difficult sloped terrain and hot weather prevented me from running faster, leading to unexpected result," she said.
Lệ triumphed in the national championship with a time of 2:48.21.
In swimming, Nguyễn Thị Ánh Viên finished first in the qualification of the women's 200m backstroke and 200m freestyle.
.
She is defending champion of both events.
Other swimmers to compete for golds are Hoàng Quý Phước and Lê Nguyễn Paul in the men's 100m butterfly and Vũ Thị Phương Anh and Phùng Ngọc Mỹ in the women's 50m breaststroke
Finals will be held this evening.
Canoeing and fencing teams also compete today and are expected to win medals. — VNS