PHOTONEWS- Dec. 8, 2019– Ongoing Days 52: NOVEL CORONAVIRUS: Philippines stops issuing visas on arrival to Chinese nationals on virus fears
File Photo: Chinese nationals queue outside the Bureau of Immigration in Manila, Philippines, June 13, 2019. REUTERS/Eloisa Lopez
.
<>
Plane evacuating Japanese nationals departs from virus-hit Wuhan
A charter plane bound for Wuhan to evacuate Japanese nationals from the Chinese city is seen at Haneda airport in Tokyo on Tuesday. (Kyodo/Reuters photo)
Virus outbreak death toll in mainland China rises to 132, cases increase to 6K
HA NOI: Fighting against nCoV like fighting against enemies: PM
Update: January, 27/2020 – 21:15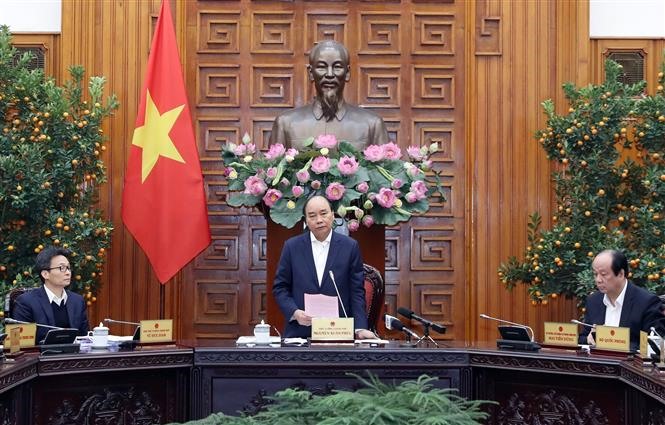 Prime Minister Nguyễn Xuân Phúc speaks at an urgent meeting on January 27 to discuss measures preventing coronavirus. — VNA/VNS Photo Thống Nhất
.
HA NOI: Đà Nẵng quarantines 12, including four Vietnamese, for fever
Update: January, 26/2020 – 18:51
..
.
VIENTIANE: Govt issues additional measures, travel warning over coronavirus
The government has announced it will set up a task force committee to combat the spread of the new coronavirus, which caused a pneumonia outbreak in a Chinese city, and has since spread to many other countries.
.
DOH keeps an eye on 24 patients for nCoV signs
.
<>
JAKARTA:  Screening for Coronavirus at Soekarno-Hatta Airport
A health inspector points a temperature gun to a passenger at Soekarno-Hatta International Airport in Tangerang, Banten, on Tuesday. (JG Photo/Yudha Baskoro)
<>
Better Safe Than Sorry
A doctor putting on protective gear in a room set aside for coronavirus victims at Dr. Hasan Sadikin Hospital in Bandung, West Java, on Friday. (Antara Photo/Novrian Arbi)
Indonesia Issues Travel Warning to China as Coronavirus Outbreak Accelerates
The government has advised Indonesians to reconsider plans to visit China because of the coronavirus outbreak. (Antara Photo/M. Agung Rajasa)
>
BANGKOK: Tourists back govt but also extend stays
A Chinese tourist at the Erawan shrine at Ratchaprasong intersection prays while wearing a face mask. (Photo by Pattarapong Chatpattarasill)
.
BANGKOK: Virus control push ratchets up
Military medics help screening at airports
Workers disinfect the cabin of a Thai Airways International jet at Suvarnabhumi airport on Tuesday to prevent the spread of the deadly coronavirus. (Photo by Varuth Hirunyatheb)
.
Ad by Cloud 9:
– SPACE RESERVE FOR YOUR ADVERTISEMENT –
.
.
TRIVIA:
2019–20 Wuhan coronavirus outbreak
A new coronavirus, designated 2019-nCoV, was first identified in Wuhan, Hubei province, China, after people developed pneumonia without a clear cause and for which existing vaccines or treatments were not effective. The virus has shown evidence of human-to-human transmission and its transmission rate (rate of infection) appeared to escalate in mid-January 2020, with several countries across Europe, North America and the Asia-Pacific reporting cases. The incubation period (time from exposure to developing symptoms) of the virus is between 2 and 10 days and it remains contagious during this time. Symptoms include fever, coughing and breathing difficulties and it can be fatal.
2019–20 Wuhan coronavirus outbreak

Confirmed 2019-nCoV cases spreading in China from January 25.

Date
8 December 2019 – ongoing
(1 month, 2 weeks and 6 days)
Location
First identified in
Wuhan, Hubei, China
Casualties
As of 28 January 2020:
5,589 confirmed cases with 131 deaths
Ad by Cloud 9:
– SPACE RESERVE FOR YOUR ADVERTISEMENT –
.
.
MY CAMERA –  Griffith Observatory