EDITORIAL-CARTOONS: M.S- Wishful thinking is dangerous

.
M.Standard Editorial- Wishful thinking is dangerous
Despite the rapid spread of the novel coronavirus (COVID-19) in his country, US President Donald Trump wants to rescind his government's stay-at-home directives and get America back to work by April 12, regardless of what the doctors say."We're going to be opening our country up for business because our country was meant to be open," Trump said, adding that he was thinking in terms of weeks rather than months.He also seemed to wave off concerns from medical experts.
"If it were up to the doctors, they may say: 'Let's keep it shut down. Let's shut down the entire world' …And when we shut it down, that would be wonderful. And let's keep it shut for a couple of years…. You know, you can't do that. And you can't do that with a country—especially the No. 1 economy in the world, by far."
.
READ MORE: https://manilastandard.net/opinion/editorial/320405/wishful-thinking-is-dangerous.html
.
.
PDI EDITORIAL- Playing catch-up
.
In a departure from his previous two addresses to the nation on the COVID-19 crisis, a calm and steady President Duterte appeared on TV Tuesday night and sought to reassure Filipinos increasingly anxious about the government's plan to contain the coronavirus threat: "Huwag kayong matakot (fear not)," he said. "Your entire government is working hand-in-hand to safeguard your health, safety and well-being."
READ MORE: https://opinion.inquirer.net/128344/playing-catch-up
.
Ads by: Memento Maxima Digital Marketing
@ [email protected]
– SPACE RESERVE FOR YOUR ADVERTISEMENT
– SPACE RESERVE FOR YOUR ADVERTISEMENT
.
.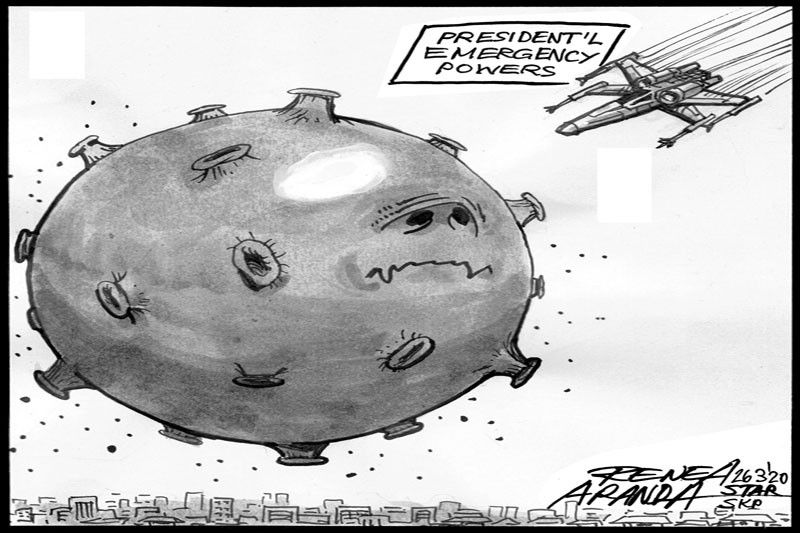 PHILSTAR EDITORIAL- Extra powers vs COVID
Additional powers are needed by President Duterte for speedier response to the coronavirus disease 2019 pandemic. This was the principal explanation of the administration in seeking special or "standby" powers for the President to enhance responses to the COVID-19 contagion.
READ MORE: https://www.philstar.com/opinion/2020/03/26/2003461/editorial-extra-powers-vs-covid
With the global uncertainty over the COVID-19 pandemic, people are generally willing to go along even with drastic measures to stop the contagion. The President asked for additional tools to deal with the crisis, and Congress granted them. Ultimately, the test of the additional powers will be in the way they are wielded. Dramatic measures are expected to yield dramatic results.
.
<op-ed>
.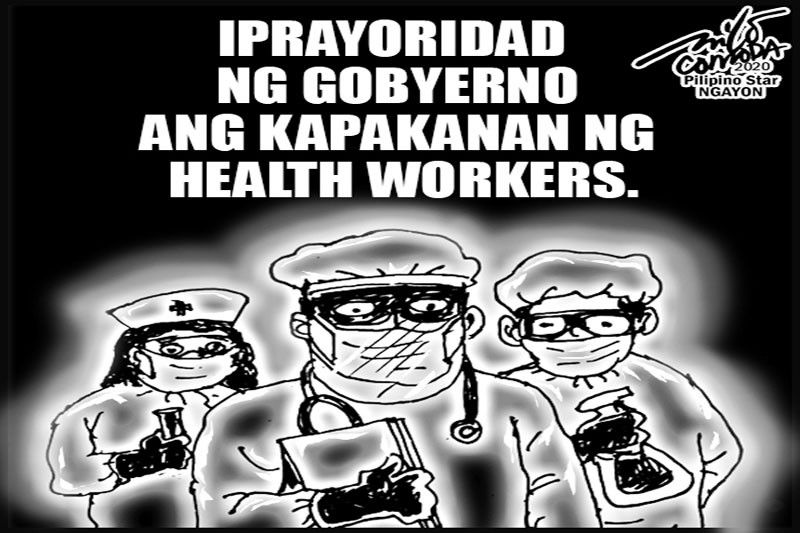 PIL. STAR NGAYON EDITORYAL – Buhusan ng tulong ang health workers
Patuloy sa pananalasa ang COVID-19 sa bansa at pinakamahirap ang kalagayan ng health workers na nakaharap sa hindi nakikita at nakama­matay na virus. Kalahati ng katawan nila ay nasa hukay habang nagsisilbi sa mga taong infected ng virus. Mga bayaning doktor, nurses, medical technologists, xray technicians at iba pang hospital staff na patuloy na dumadalo sa mga biktima ng virus. Karamihan sa kanila, wala nang pahinga dahil sa patuloy na pagdami ng mga nagkaka-infection. Umabot na sa 562 ang nagpositibo at 35 na ang namatay.
READ MORE: https://www.philstar.com/pilipino-star-ngayon/opinyon/2020/03/26/2003419/editoryal-buhusan-ng-tulong-ang-health-workers
.
Ads by: Memento Maxima Digital Marketing
@ [email protected]
– SPACE RESERVE FOR YOUR ADVERTISEMENT
– SPACE RESERVE FOR YOUR ADVERTISEMENT
.
The Straits Times says
Crises are best fought in good times.
As the Covid-19 pandemic grows, comparisons are being made and lessons offered from the past such as the 1918 Spanish flu and the 14th-century bubonic plague that left millions dead in Europe. Taking a step back, there's another lesson to be drawn from an even older source – the Old Testament account of Egypt's ruler being advised by his vizier Joseph to prepare ahead for seven years of famine during seven years of good harvests.
READ MORE: https://aseanews.net/2020/03/26/editorial-sg-the-straits-times-says-crises-are-best-fought-in-good-times/
.
<op-ed>
EDITORIAL- BANGKOK POST:
All must help each other
.
The coronavirus outbreak has shown us many things, above all how connected we are.
Social distancing is the norm to slow down the spread. But that does not mean we can't be there in spirit for people in need and those who are vulnerable to catching the disease.
The Covid-19 outbreak is pervasive, reaching far and wide as it is carried from one patient or carrier to many others who come into close contact with them. Decisive and comprehensive action from the government will help curb the spread.
Eventually, however, it's community spirit, the very connectedness if not physically then emotionally that human beings have towards one another, that will help us survive this together.
The coronavirus has shown that no-one can survive this alone. We can't afford to leave the vulnerable behind. Commendable attempts have been made, but more are needed
.
READ MORE:https://www.bangkokpost.com/opinion/opinion/1886750/all-must-help-each-other
All photographs, news, editorials, opinions, information, data, others have been taken from the Internet ..aseanews.net | [email protected] For comments, Email to :D'Equalizer | [email protected]