EDITORIAL CARTOONS: -The Acosta debacle

The Editor
PHILIPPINES
Philippine Daily Inquirer
EDITORIAL -The Acosta debacle
EDITORIAL -The Acosta debacle
So who's afraid of the government's "No vax, no ride" policy that restricts the movement of unvaccinated individuals in an effort to curb the spread of COVID-19?
.
Certainly not Persida Acosta, the chief of the Public Attorney's Office (PAO), whose anti-Dengvaxia campaign during the Aquino government's mass vaccination drive against dengue has been blamed for the drop in the country's immunization rate and the subsequent re-emergence of polio in 2019. In a television interview last week, Acosta
<>
With just over five months in office and with the national elections expected to grab resources and attention away from the pandemic, the Duterte administration has no time to lose and no reason to drop the ball. Even in the homestretch of its term, the government has the bounden duty to protect the health and safety of all Filipinos, even as it addresses the concerns of habitual naysayers in its ranks.
Read more: https://aseanews.net/2022/01/25/column-editorial-the-acosta-debacle-philippine-daily-inquire/
COMMENT:  
ATTY.(?) Acosta is rebel out of direction and purpose. She put science back in the 18th Century when she thought that vaccines will make you a ZOMBY? What a setback for an ambitious person.
__________________________________________
SPACE RESERVE FOR  ADVERTISEMENT
_________________________________________________
THE MANILA TIMES
Opinion  Editorial Cartoon
COMMENT:  
__________________________________________
SPACE RESERVE FOR  ADVERTISEMENT
_________________________________________________
The Philippine Star
EDITORIAL – Recalibrating the drug war
The Philippine Star
January 25, 2022 | 12:00am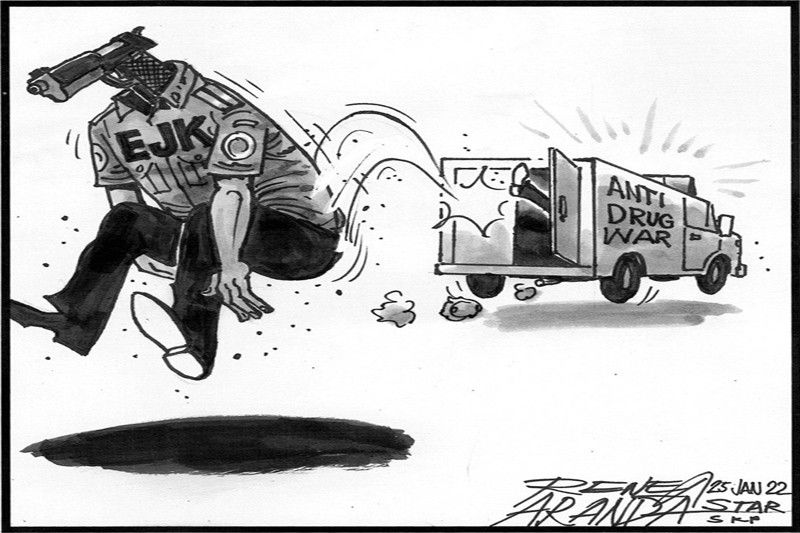 With five months left in the term of President Duterte, people are wondering about what will happen to his priority program: the war on drugs. The President rose to power partly on a promise of killing drug personalities and ending the illegal drug menace in six months.
<>
The Tokhang approach also opened opportunities for gross human rights abuses. Sen. Ronald dela Rosa, who initiated Tokhang when he was the national police chief, has publicly lamented that his mistake was waging the war without first undertaking a thorough cleansing of those tasked to carry out the campaign.
No one will disagree with the need to fight the drug menace. But this is a continuing scourge, and no country has eliminated it through mass executions. The upcoming leadership change this year opens opportunities for a recalibration of the campaign.
READ MORE:  https://www.philstar.com/opinion/2022/01/25/2156108/editorial-recalibrating-drug-war
COMMENT:s.
People who put DU30's killing machine, executing innocent bystanders assuming drug addicts and dealers, in the government positions and senators were the same people who died on the road.
__________________________________________________
SPACE RESERVE FOR  ADVERTISEMENT
_________________________________________________
Pilipino Star Ngayon
EDITORYAL – Bagsikan ang batas vs cyber criminal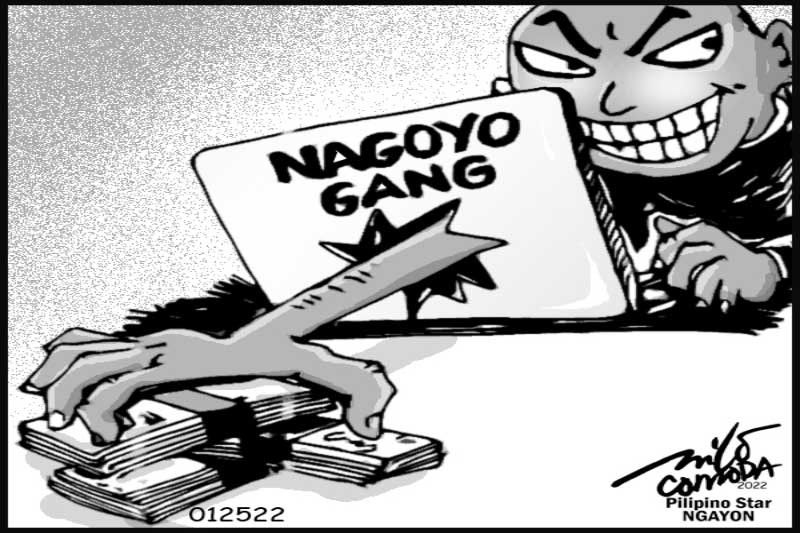 NAHULI na ng National Bureau of Investigation (NBI) ang nasa likod ng "Mark Nagoyo'' gang na nag-hacked sa BDO-Unibank accounts noong nakaraang Disyembre. Limang suspects ang nahuli na ang pinaka-mastermind ay nakilalang si Jherom Anthony Diawan Taupa. Si Taupa ang nagpakalat ng scam page ng banko na nakapanloko ng 700 kliyente. Sa pamamagitan ng pagklik sa link, nagawang mai-transfer via InstaPay ang P50,000 ng kliyente patungo sa UnionBank na ang account ay nagngangalang "Mark Nagoyo".
<>
Nararapat namang bagsikan pa ang batas laban sa mga cyber criminals. Higpitan din ang pagpasok ng mga dayuhan, lalo ang Nigerians na eksperto sa pag-hacked ng accounts. Parusahan nang mabigat ang mga sangkot sa phishing, smishing at iba pang uri ng electronic financial crimes. Dapat lipulin ang mga salot upang hindi na pamarisan.
READ MORE: https://www.philstar.com/pilipino-star-ngayon/opinyon/2022/01/25/2156132/editoryal-bagsikan-ang-batas-vs-cyber-criminals

KOMENTO:  
Sa pigura ng mga mahuling criminal sa cyber crime, nmukhang jindi nila kayang gawin ang ikinakaso sa kanila…at mukhang mga FALL GUYS ang mga ito. Malalaking ulo ang pasimuno sa krimen na ito at ang kunwang pagtapos ng krimen at pakitang tao sa mga investors, depositors, gobierno, at iba pa..
_______.___________________________________
_____________________________________________